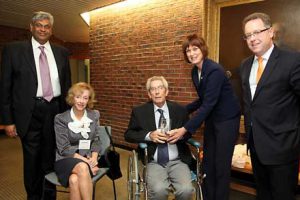 By Allyson Rowley
Is our food safe? Thanks to a new Chair in Food Safety – the first of its kind in Canada – McGill will be at the head of the table in seeking answers to that question.
The Ian and Jayne Munro Chair in Food Safety has been kick-started with a generous $1.5-million gift from leading food safety researcher and McGill graduate, Dr. Ian C. Munro, and his wife Jayne Munro, along with an investment of $500,000 from the University. A further $1 million will be raised in the future to ensure the Chair will be endowed in perpetuity.
Based in the Faculty of Agricultural and Environmental Sciences, the Chair will lead McGill's newly established Food Safety and Quality Program (FSQP), an interdisciplinary teaching and research initiative. The FSQP will undertake collaborative research, offer undergraduate and graduate teaching programs, and provide the independent, third-party expertise needed for the Canadian food industry to address the complex scientific, legal and policy issues of global food safety. The appointment of the first Chair holder, a world-renowned scientist, is expected within the coming year.
"There is so much horsepower here at McGill. This is the perfect place to launch this major new program," said Munro, BSc(Agr) 1962, MSc 1967. "I have long wanted to establish a Chair in Food Safety, and McGill is certainly my first choice. Nowhere else in Canada is there a program of this quality and magnitude, delving into food safety issues."
Executive Vice-President and Senior Scientific Consultant of Cantox Health Sciences International in Mississauga, Munro has devoted his career to identifying and controlling toxic constituents in food. He explained that the FSQP will serve as an arms-length scientific authority, which will take advantage of McGill's strengths across multiple areas – agricultural and environmental sciences, law, management, medicine and science. The FSQP will also conduct research initiatives with the Canadian food industry.
Munro is careful to point out that many food safety problems arise from natural causes, through no fault of the food industry. "But it is certainly their responsibility to study and control these problems – and the food industry has been front and centre in conducting this research," he said, mentioning the "tremendous support" that has already been received for the FSQP.
"Our industry partners have played a pivotal role in the creation of this new program," said Dr. Chandra A. Madramootoo, Dean of the Faculty of Agricultural and Environmental Sciences. "The reality is that food safety issues have been with us for decades. No one can foretell when the next outbreak will be, and our food comes from so many sources." Madramootoo explained that McGill is uniquely placed to find solutions: "We offer expertise in every part of the food system, from the time the seed goes in the ground, right up to when the food reaches the consumer."
"The extraordinary generosity of Dr. and Mrs. Munro will ensure that McGill is a leader and an innovator in this crucial area, through our unique combination of strengths across multiple areas of research, scholarship and industry collaboration," said Principal and Vice-Chancellor Heather Munroe-Blum at a ceremony on April 15 at the Macdonald Campus. Prior to the gift announcement, industry leaders, academics and students gathered for a one-hour symposium, "Averting a Crisis: Making our Food System Safe."
This latest gift contributes to Campaign McGill: History in the Making, which is raising the funds needed to attract and retain top students and faculty, increase access to quality education, and ensure that McGill remains one of the world's great research-intensive and student-centred universities. To date, 37 new faculty chairs have been created during the time frame of Campaign McGill.
Editor's note: The Reporter has learned that Dr. Ian C. Munro passed away on April 27, 2011, after a three-year battle with cancer.