Over 90,000 McGill students, staff, faculty members, alumni, parents, and community members have attended events certified by the McGill Sustainable Events program. Launched in summer 2017, McGill Sustainable Events is an initiative from the Office of Sustainability that provides consultations, trainings, and resources to raise awareness of sustainable best practices for event planners at McGill.
The program now celebrates a new achievement: certifying the Spring Virtual Convocation Ceremonies as the first events to complete its recently relaunched certification process. They are also the first events to be certified with the program's new Virtual Sustainable Event checklist. To receive the certification, the organizing committee behind Virtual Convocation committed to sustainable actions such as promoting the ceremonies' accessibility and embedding opportunities for active engagement within the event structure.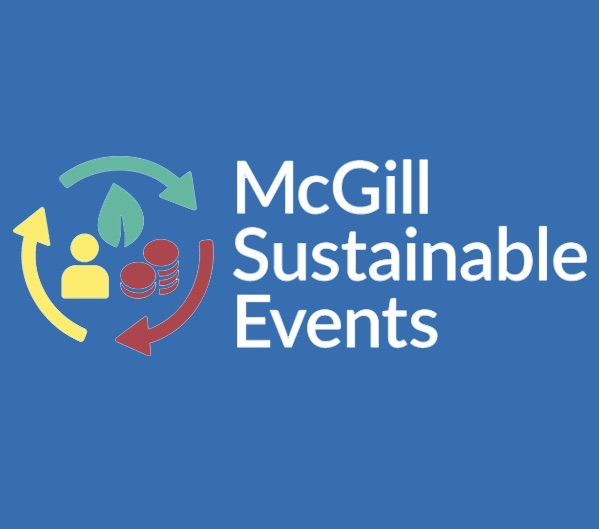 The McGill Sustainable Events team supports event planners to incorporate elements from each of the three pillars of sustainability into their event. The certification focuses on examining each event's environmental impact (i.e., reducing material waste), inclusivity and accessibility (i.e., removing barriers to participation), and economic implications (i.e., supporting local businesses).
Now at its three-year anniversary mark, the program has relaunched with new certification checklists – including one for large-scale events and another for virtual events – as well as improved resources for event planners created through feedback from the McGill community.
"I am very excited to launch our new checklist," said Miranda Roseland, Sustainable Events Intern at the Office of Sustainability. "I think this will allow us to reach a wider variety of events and contributes to positive change for McGill."
The McGill Sustainable Events team has now certified 280 events and continues to run thanks to a team of dedicated student volunteers who guide event planners through the certification process. The program has been recognized by the Association for the Advancement of Sustainability in Higher Education's Campus Sustainability Achievement Award as part of the Office of Sustainability's campus-wide engagement programs, which includes the Sustainable Workplace Certification and Staff Gardens programs.
Part of the program's success lies in its alignment with other sustainable campus initiatives on campus, such as the Refill McGill campaign, the student-run Plate Club, the McGill Offsetting Program, and, among others, the Sustainability Projects Fund Tiny Stream.
"Growing a culture of sustainability on campus requires us to consider how to make our campus activities – including events – more mindful of their impact on our environment and the members of our community," said François Miller, Executive Director at the Office of Sustainability. "Programs like McGill Sustainable Events allow students, staff, and faculty members to pursue a consistent sustainability standard that should be prioritized and achieved wherever possible."
A Three-Year Program Report for the McGill Sustainable Events program has been published covering the May 2017-April 2020 period and is publicly available on the Office of Sustainability website.
For more information about getting an event certified, visit the McGill Sustainable Events website or reach out to the Sustainable Events Team at events.sustainability@mcgill.ca.