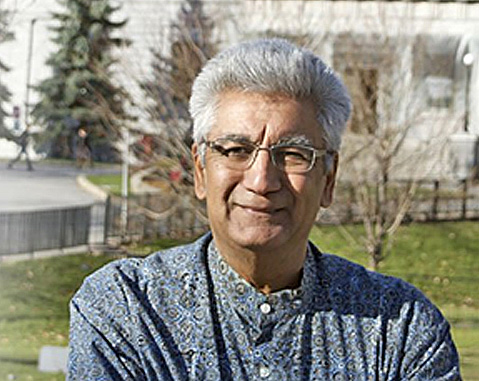 Vikram Bhatt, a Professor of Architecture, has been named to the RAIC College of Fellows.  The College of Fellows of the Royal Architectural Institute of Canada (RAIC) bestows Fellowship to RAIC members in recognition of outstanding achievement. Criteria include design excellence, exceptional scholarly contribution, or distinguished service to the profession or the community.  Fellows will be inducted at the College of Fellows Convocation, which takes place during the RAIC/AANB Festival of Architecture in Saint John, May 30 to June 2.
The citation reads:
"Vikram Bhatt studied architecture in his native India and completed graduate studies in housing at the McGill University School of Architecture. He has been teaching at McGill since 1975, directed the Graduate Program in Minimum Cost Housing since 1989, and has held visiting positions at universities in France, Germany, India and the USA.
"Professor Bhatt is internationally regarded as a distinguished teacher and an outstanding scholar, as a creative and accomplished researcher, and as a responsible and contributing member of the local and global community. His teaching and research agendas are intertwined and have, over time, addressed shelter and human settlements, housing in the developing world, urban agriculture, and housing and habitat planning in Northern Quebec. His work has been disseminated widely and his publications, in particular, After the Masters, co-authored with Peter Scriver, and Resorts of the Raj, represent high levels of achievement in new and important areas of architectural scholarship. He has directed or co-directed more than 2 million dollars of research based on projects in India, Mexico, China, Argentina, Uganda, Sri Lanka, and Canada, and international recognition of his work has included numerous prestigious awards, most recently, the 2008 RAIC National Urban Design Award and the 2014 Margolese National Design for Living Prize.
"Vikram Bhatt's intellectual versatility, extraordinary adaptability in different and often difficult conditions, and deep sensitivity to the particular needs and aspirations of the people with whom he works have been demonstrated time and time again, in a variety of situations all over the world."