As one of the top educational institutions in Canada with a student body of nearly 40,000, it should come as no surprise that a crucial aspect of the sustainability network at McGill is youth driven.
One changemaker within the Roddick Gates is undergraduate student Makena Kristen. Raised in Vancouver, Kristen decided to turn her love of the outdoors into sustainability-related action. During her degree in International Development and Urban Studies, she participated in several sustainability-related extracurriculars, including the Sustainability Projects Fund (SPF) Governance Council, the McGill Energy Association, and the McGill Centre for Innovation in Conversion & Storage of Energy.
In a sit-down with the Office of Sustainability, Kristen shares what it takes to join student activism and her experience on campus.
Tell us about your background and what motivated you to get so involved in sustainability on campus.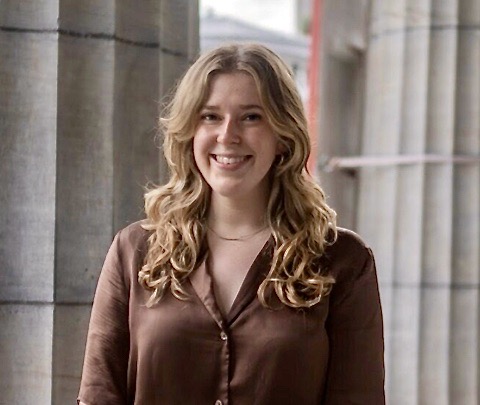 I've always had a really big passion for the environment and sustainability. I feel like growing up in British Columbia, it's hard not to. Then when I started to learn more about the challenges the environment is facing, I realized there wasn't enough substantial change happening to address such a big issue.  Everything is dependent on the health of our climate, so it was difficult to understand why more wasn't being done.
Sometimes there [has to be] a jump between just being a student and choosing to get involved, and the motivation for that jump is different for everyone. When the pandemic hit, I felt stuck inside alone, and I had wanted to get involved for a while, but it pushed me to do something about my concern for the environment.
The first big thing I jumped into was the McGill Energy Association, which at the time was focused on oil and gas and was mostly targeting engineering students. I became the president and then started to change the mandate from oil and gas to the global energy transition. Now the club is about encouraging the transition of the global community from being dependent on fossil fuels to renewable energy.
What do you love about being a student activist? What about it challenges you?
There's a lot of things I love about being a student activist. Working with youth on something you're passionate about really grows you as a person.  I do it because I like to be a part of the change I hope to see, but I think people also really underestimate the tangible work skills you get from doing these things. You learn how to problem-solve and work as a team. And each of these new skills can prepare you for more opportunities that originally didn't fit your skillsets.
A major challenge I have faced is that when a lot of people think of the environment, they think of very rigid environmental sciences, but it's so much more than that. The economic, cultural, and political climate makes such an impact, which means there is room for everyone to get involved.
When people from different interests and disciplines come together you get so many different perspectives to find stronger solutions that will benefit more people.
How has being on the SPF Governance Council impacted your opinion of sustainability on campus? What have you learned from the experience so far?
Being part of this Council, which isn't just student-run, has really reconfirmed how interdisciplinary sustainability is for me.
It's been amazing to see, but I think there is a lot of room for growth. The SPF has $1 million every year. Not every five or ten years, every single year. It's the biggest fund of its kind in Canada for postsecondary institutions and it really allows students to instigate change. I personally think it's not used enough right now.
If you really do want to see sustainable change on campus, you have the ability and the resources to do it.  I really encourage students to come forward and act on your ideas.
Why do you think it's important for students to get involved in sustainability issues?
I've always wanted to grow up in a place with good air quality and a fair social government. Who wouldn't? The part that makes youth different from [older generations] in regards to sustainability is that what we do now impacts our futures.
Students are also the most motivated people I have ever met. We're still trying to find our place in the world, and one of the easiest ways to do that is to work for the future you want to see. Working in student activism builds a really great community of others who are super passionate about sustainability. It makes such a big school feel a bit smaller with these communities being formed around campus.
If you had one message to share with incoming students about getting involved in sustainability, what would it be?
Don't underestimate yourself and the change you can make. I know it can feel overwhelming, but you just have to start slow, and the rest will come.
There can be a lot of fear especially in younger students who look at all of these older, more accomplished students and don't feel like they belong. But your passion is more important than your previous experience. People aren't just looking for someone who is good on paper, this movement needs people who really care and are ready to jump in and make change.
A lot of life is just trying, and I think a lot of people will be surprised with how much they can accomplish and how much they can do just by taking that first step. It's scary – very scary – but once you do it, it will get easier and easier every time. Then one day, you'll be able to look back at yourself and think, "Wow! I never would have thought I would be here."
If you want to find your community, put yourself out there and stay true to your values. The rest will come.