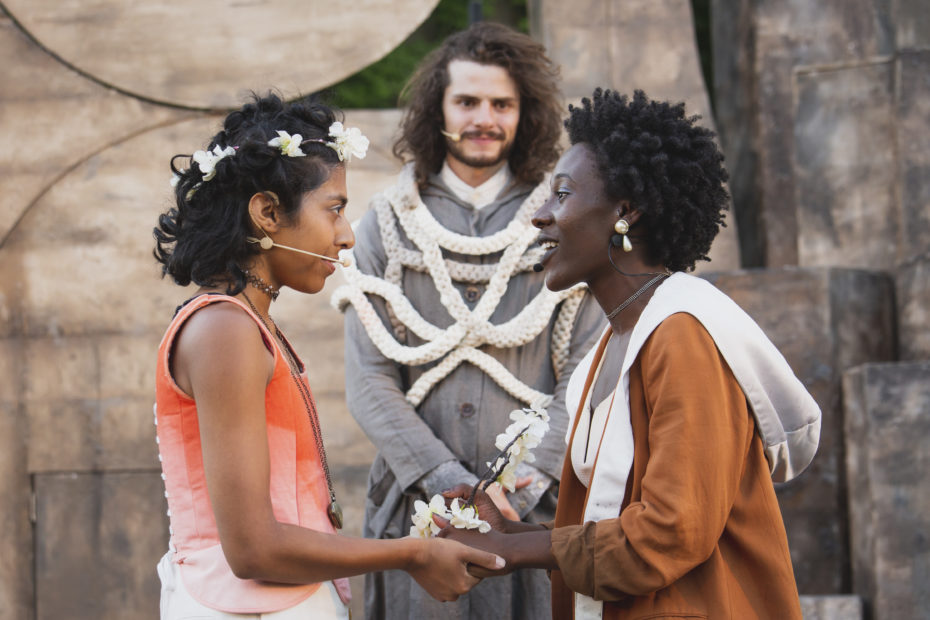 O Romeo, Romeo! Wherefore art thou Romeo? Spoiler alert: He'll be on campus – and, this time around, he's a she.
As part of Repercussion Theatre's 30th season of Shakespeare-in-the-Park, Three Bares Park on the lower downtown campus will be the backdrop for a gender-bending take on William Shakespeare's best-known play. McGill's Department of English presents Romeo & Juliet: Love is Love on Tuesday, July 31 at 7 p.m.
Repercussion Theatre has changed things up since it last staged Romeo and Juliet in 2010: The titular couple are now both women. Borrowing one of Shakespeare's favourite devices, Romeo and Juliet: Love is Love is a play-within-a-play. In the framing narrative, a theatre troupe must repeatedly perform Shakespeare's classic play until society absorbs the lessons about the all-destructive power of hate. Before each performance, the actors draw lots to decide their roles—and this time around, chance casts two women as the leads. Romeo and Juliet: Love is Love stars Shauna Thompson as Romeo and Michelle Rambharose as Juliet.
Each year, Repercussion Theatre brings the Bard's work to some 10,000 Montrealers in parks across the city. (This summer's expanded anniversary tour includes dates in the Eastern Townships and Ontario.) As it has done since 2011, the Dept. of English Early Modern Conversions research group is presenting the McGill performance, which will include two pre-show workshops.
From 4 to 6:15, the Geordie Theatre Company will host workshops for kids ages 11 to 17. Young people will learn "what all the thy, wilt thou, wherefore and forsooths are all about and experience the fun of speaking Shakespearean text." Participants will also meet the cast, talk to the director, and participate in a professional pre-show warm-up. The workshop costs $35 per child, and enrolment is limited to 10 people.
At the same time, there will be a free forum discussion about "queering Shakespeare." Gender fluidity often appears in Shakespeare's work, but Repercussion Theatre's overtly same-sex take on the famous star-crossed lovers has raised both cheers and a few eyebrows this summer. In response, Jesse Stong, a queer theatre creator/performer, will facilitate a public forum about bringing new dimensions to Shakespeare's plays and other canonical theatre. There will be experienced childcare volunteers available to help supervise/engage young visitors.
Romeo and Juliet: Love is Love itself will begin at 7 p.m. The play is free, but donations will be gratefully accepted.
Audience members are invited to bring their own chairs and blankets. There will be a limited number of lawn chairs available for rent.
For the third consecutive year, Francophone audiences can enjoy the play using a smartphone app (created by Plank Design) that provides real-time French subtitles.
The Early Modern Conversions research group brings together an international team of scholars and artists to study the first great Age of Conversion (1400-1700), during which Europeans converted their religious, social, political, and even sexual identities. The Repercussion Theatre website has more information about its collaborations with the group.