By Neale McDevitt and Doug Sweet
On Sept. 30, Frédéric Bachand closed the Open Forum on the Recommendations of the 2016 CAMSR Report on Divestment with a final meeting at Macdonald Campus.
Over the course of the three-day University wide discussion, members from all facets of the McGill community – students, staff, faculty and upper administration – weighed in on sustainability at McGill.
But while the public meetings are said and done, the public consultation is far from finished. "This is not over," said Bachand, Chair of the Open Forum. "Sustainability is a very important topic to the entire McGill community and it represents a huge challenge for us. There is a crucial institutional role to be played now – what to do, how to do it, what to emphasize, what to prioritize? Those are tough questions and we need input from as many people as possible."
As such, Bachand is encouraging people to submit their ideas and concerns via email or using the Open Forum blog. "I was given until Oct. 31 to file a report [to the Provost] and, for the benefit of everyone, it makes sense that I give people the opportunity to voice their opinions. So, please, write us."
Wide range of subjects
The three Open Forum meetings attracted a wide range of participants and an even wider range of ideas on sustainability at McGill. Topics included everything from composting and e-conferencing to divestment and radical changes in the curriculum.
The Mac session was a perfect case in point.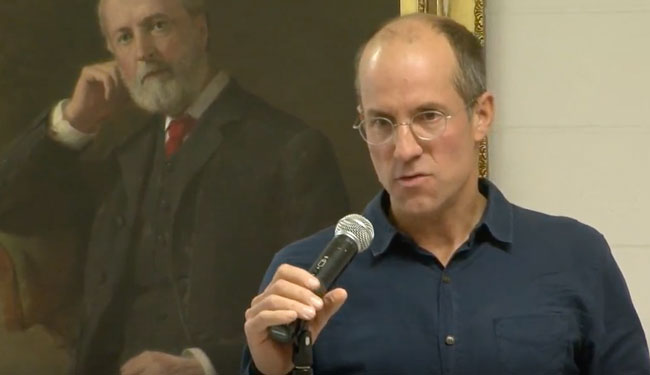 Speaking on behalf of a dozen professors, Greg Mikkelson of the Department of Philosophy and the School of Environment, voiced his dissatisfaction with the original CAMSR report, citing its "complete disregard for standards of evidence and documentation."
Instead, Mikkelson suggested, a new committee should be struck to produce a report after a "transparent process of deliberation involving extensive public input."
Another participant listed a series of concrete suggestions that McGill could employ to make itself greener.
"At an institutional level, McGill needs to be setting environment objectives and carrying through with them," he said. "We need to come up with a number – Let's say we want [McGill's] emissions to be 40 per cent below 2000 levels by 2030. There's a target you can hang a coat on.
"But how do we implement this?" he continued. "We set an institutional goal and now throughout our decision makings in our departments, in our decisions on what buildings we are going to build, that is the first question that gets asked – how is this helping us reach our 2030 goal?"
The same speaker also suggested McGill take a hard look at its purchasing policies, saying the University should use reputable third parties to source the most sustainable products. "Do we know if the paper coming out of our printers is 100 per cent post-consumer recycled?" he asked. "Because if it's not, that's a really easy, low-bar [way] to change our ecological footprint."
A more sustainable curriculum?
One of the more thought-provoking ideas put forth was how the best efforts to reduce McGill's carbon footprint on an institutional level would all be for naught unless the University make fundamental changes to its curriculum.
"Let's suppose that McGill achieves carbon neutrality. It would be great," said Peter Brown of the Department of Geography and the School of Environment. "But [McGill's Faculty of Management] continues to teach that economic expansion is absolutely essential. We've defeated in the classroom what we've done on campus. If [McGill's sustainability effort] is really going to be effective this cannot be disciplinarily neutral.
"This kind of treads on sacred territory – what gets taught in a department— but I don't see how that can be avoided if this is to be a meaningful discussion," Brown continued.
At the second forum, held at Thomson House on the downtown campus, where about 25-30 people attended, the group heard that McGill needs to make its academic opportunities in sustainability clearer and more visible so students can find them more easily. And it needs to develop a sense of urgency about the issue of climate change, more than one speaker said.
"When I think about retirement, I think of 'will there be a world?' " one said. "We need to find a more engaging way to reach out to students."
At the first forum, at the Faculty of Law's Moot Court room, about 75 to 80 people heard an emotional presentation by Denzel Sutherland-Wilson, a U2 Management student and member of the Gitxsan Nation, as he described the agony British Columbia native communities go through over questions of the development of natural resources. "If McGill is serious about aboriginal rights," he said, "you have to divest [from fossil fuel companies]."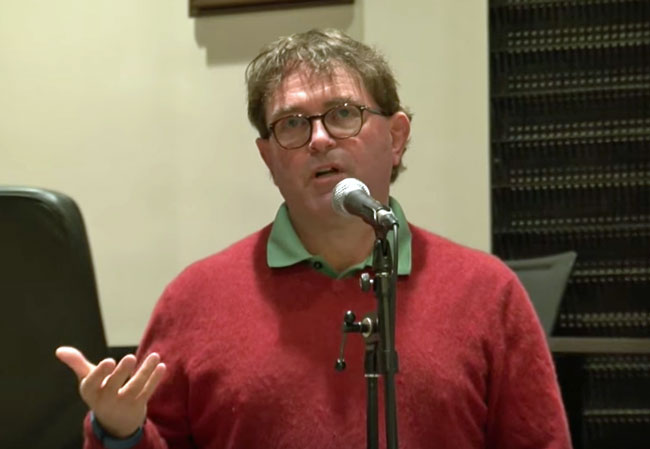 Geography professor Nigel Roulet told the forum the world doesn't "have a hope in hell" of reaching global warming of only 1.5 degrees Celsius. The fight against global warming, he said, "has to come from the community level. It's only through millions and millions of small things being done differently that things will change."
Roulet suggested, as an example, that McGill promise to reduce its carbon footprint by 20 per cent – and then challenge other universities to do the same.
Looking back at the public meetings Bachand says many difficult questions were raised – and that is always a good thing. "I wouldn't judge the value and effectiveness of a consultation like this solely by asking whether many specific, concrete proposals were made," he said. "That can be very helpful, for sure, but reflecting in a way that helps the institution frame the issues and articulate the questions in a different manner is also highly valuable."
People can submit their suggestions via email or on the Open Forum blog.
Watch video recordings of the public meetings.
Visit the Open Forum website for more information, including background documents.