Celebrating a sustainable springtime can mean much more than just starting seedlings.
For three McGill workplaces, a sustainable spring has meant recommitting to embedding sustainable practices into their daily lives, at home and at the office, with the Sustainable Workplace Certification Program. From developing a greater understanding of the social dimension of sustainability to learning how to further reduce waste, these teams have used the program to find sustainable habits that work for them.
Trottier Institute for Sustainability in Engineering and Design (TISED) – Bronze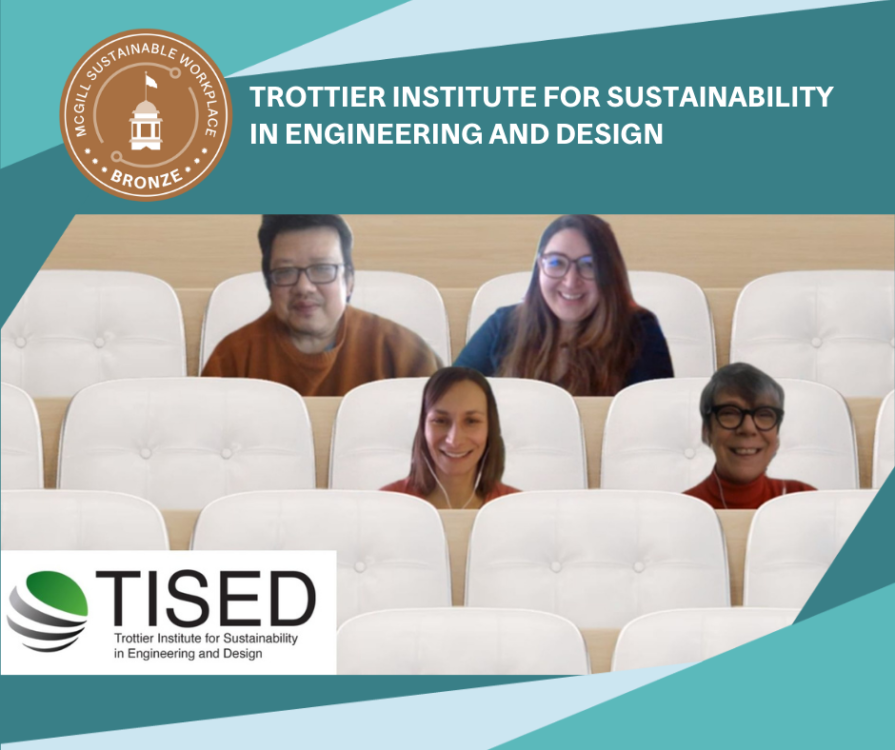 Number of team members: 4
Sustainability Goal: To improve our office and home habits and environment, and find new team-building initiatives to promote sustainability at McGill.
Sustainability is a core principle of the Trottier Institute for Sustainability in Engineering and Design (TISED).
"The mission of TISED is to catalyze innovative engineering and design solutions to overcome local and global sustainability challenges," explained Ambassador Parisa Hassani.
While TISED provides McGill engineering students with interdisciplinary course options, research funding, and opportunities to engage through symposia, talks, and conferences, the team behind the Institute felt it was equally important to embody the values of sustainability through their day-to-day work.
Through the bronze-level certification, the team has committed to actions such as prioritizing reusable dishware at home and the office, sharing details about proper waste disposal on campus, and making plans to step away from the computer to enjoy each other's company at lunch hour.
"Receiving this certification would provide the TISED team with recognition and encouragement to continue to play our role in making McGill University a more sustainable institution," said Hassani.
Desautels Faculty of Management Masters Office – Silver
Number of team members: 21
Sample Silver-level Action: Work toward achieving gold-level certification in 2022
"We completed the Bronze level certification at the end of 2021 and wanted to keep building on the momentum and seek our silver certification," explained Ambassador Wesley McCoy.
Through the silver-level certification, McCoy said his team has built greater "awareness of the small actions that can lead to a large impact on our sustainability."
"Our team has gained a deeper appreciation and awareness for making sustainable choices in their day-to-day life. Small actions have large impact," he said.
McCoy continued that through the certification, his team has developed an interest into the three dimensions of sustainability—environment, economics, and social—and how they relate to their faculty's Equity, Diversity, and Inclusion (EDI) initiatives.
Maude Abbott Medical Museum (MAMM) – Silver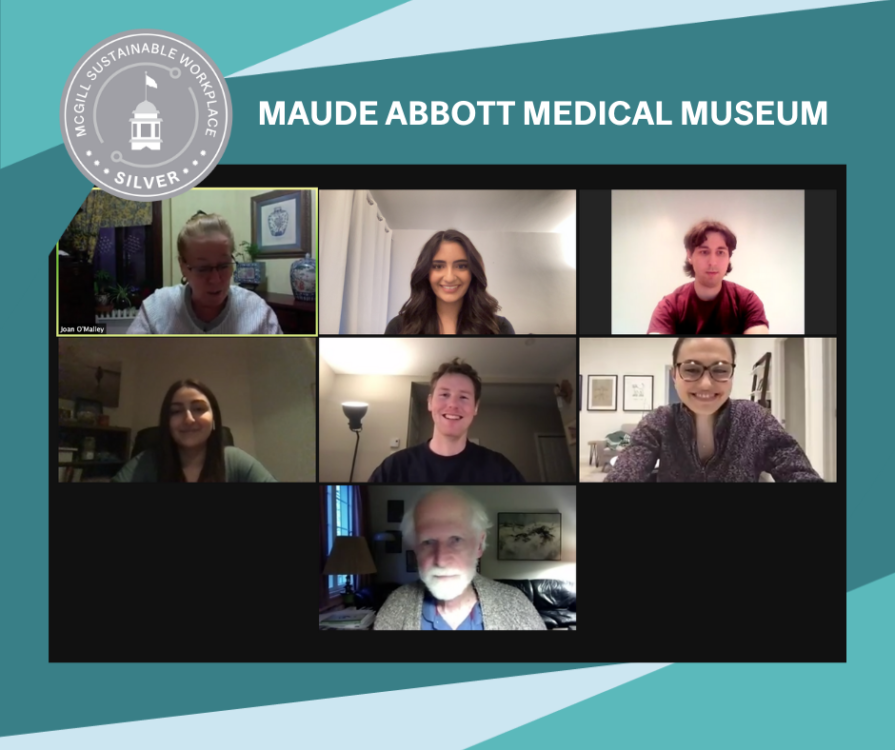 Number of team members: 10
Sample silver-level action: Started a medicinal garden in the unused planters in front of Strathcona building.
"We wanted to challenge ourselves and our colleagues to be more deliberate in our actions," explained Sustainable Workplace Ambassador Callum Mullen.
The research practices undertaken by members of the MAMM team produce waste inherently, said Mullen. By moving forward with the certification program, "we aimed to reduce the waste we produce as a team to try to take some of these practices back to our own classes, labs, and friend groups."
Through their participation in the Sustainable Workplace Certification program, Mullen said that these practices have become habit.
"With the Bronze certification under our belt, we rarely have to think about the sustainability practices, it's become second nature," Mullen said. We're happy to implement changes and encourage other teams to do the same."
The Sustainable Workplace Certification program includes environmentally, economically, and socially aware action items to inspire sustainable changes at work and at home. Learn more here.