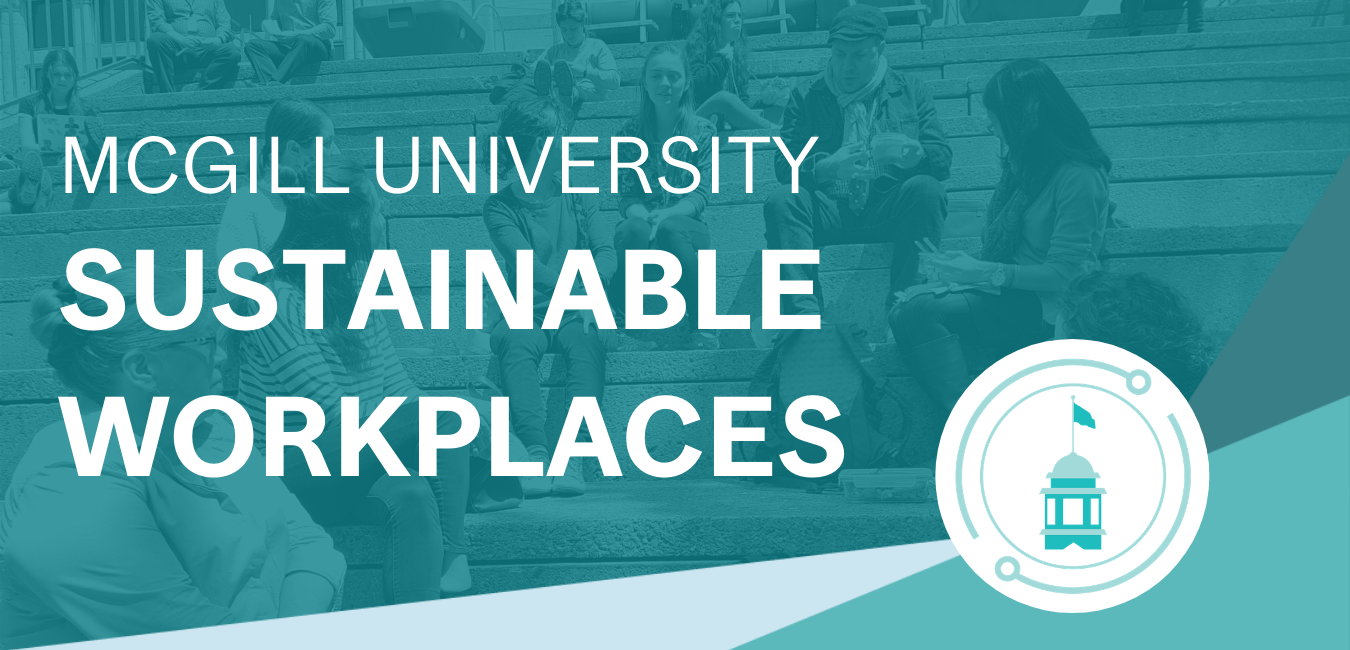 Stepping away from our gardens and hunkering down for the cold months ahead doesn't mean slowing our progress on sustainability.
For five McGill workplaces, this fall has seen a recommitment to embedding sustainable practices into their daily lives, at home and at the office, with the Sustainable Workplace Certification Program. From developing a greater understanding of the social dimension of sustainability to learning how to further reduce waste, these teams have used the program to build sustainable habits that work for them.
Trottier Institute for Sustainability in Engineering and Design (TISED) – Gold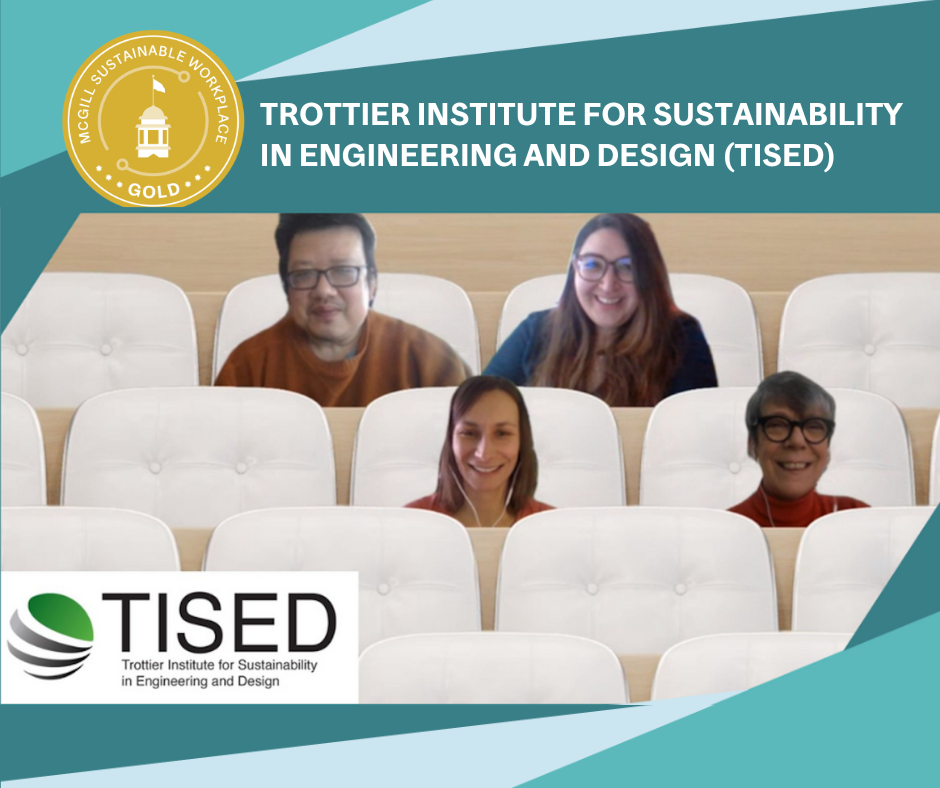 Number of team members: 3
Sustainability Goal: To catalyze innovative engineering and design solutions to overcome local and global sustainability challenges.
"Receiving this certification [provides our team] with recognition and encouragement to continue to play our role in making McGill University a more sustainable institution," said Sustainable Workplace Ambassador Parisa Hassani.
TISED is situated within the Faculty of Engineering at McGill and promotes bold and green ideas through education, outreach, and research. Their primary aim is to connect the University with the public for a greater understanding of sustainability issues in society.
Some of the changes TISED has made to incorporate sustainability into their day-to-day lives includes certifying all office events through the McGill Sustainable Events Certification Program, ensuring their website is accessible using the Adobe Accessibility Checker, and having their team members complete equity and inclusion training.
Office of Internal Audit – Silver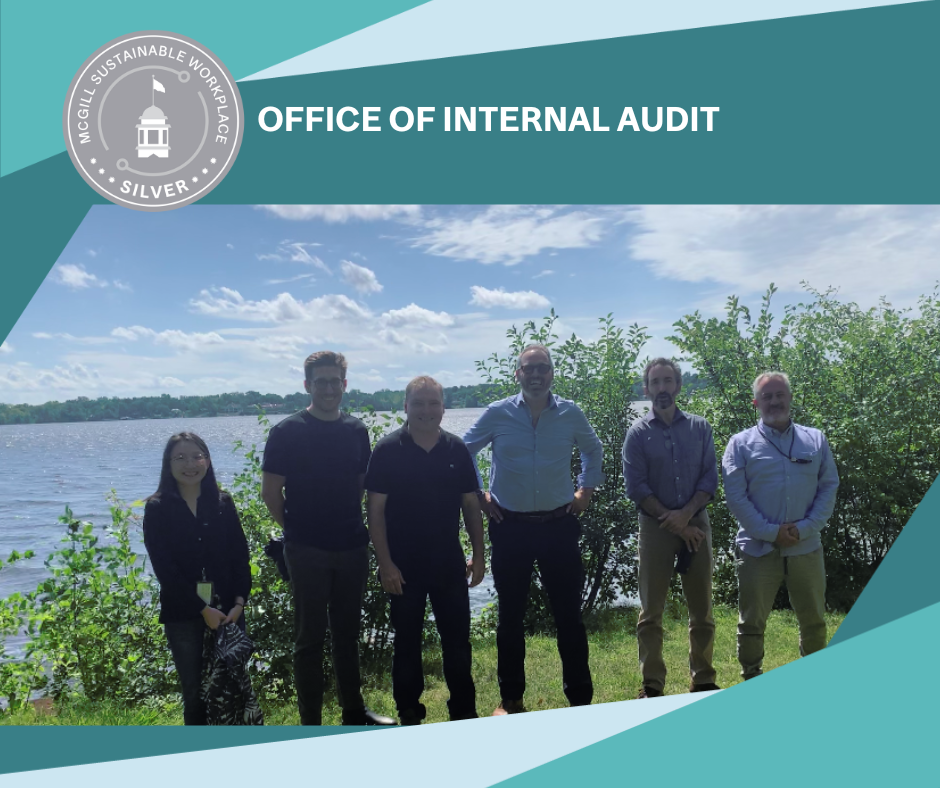 Number of team members: 9
Sustainability Goal: To have regular discussions as a team on sustainability, and to set an example that aligns with the group's personal beliefs.
"[Certifying our workplace] has changed how we do things, in habits but also in how we approach our work and audits," explained Sustainable Workplace Ambassador Pedzi Nleya.
The mission of the Internal Audit Unit at McGill is to provide feedback on how to improve the University's operations. This office assists McGill in accomplishing its objectives by bringing a systematic, disciplined approach to evaluate and improve the effectiveness of risk management, control, and governance processes.
The office has implemented many sustainable practices into their daily routines, including verifying recyclable vs non-recyclable containers, composting, and reducing their printing. As a team, they have also registered for staff fitness classes.
Financial Services (Student Accounts Office) – Silver
Number of team members: 12
Sustainability Goal: To practice the knowledge gained from the certification in their home lives as well.
"As a team, we really are making efforts in striving for a sustainable workplace," commented Sustainable Workplace Ambassador Melvin Lising. "The entire certification [has been] a great team bonding activity."
The Financial Services Student Accounts Office ensures the financial integrity of the University's operations and helps students with loans, refunds, sponsorships, tuition assistance, and external scholarships.
Some of the sustainable changes the office has made include using the Microsoft Accessibility Checker for all communications, switching to reusable Keurig coffee pods, and having all staff members attend McGill sustainability workshops.
Financial Services (3465 Durocher) – Silver
Number of team members: 100
Sustainability Goal: To take pride in the successes they have had with previous sustainability initiatives, and to stay motivated to move toward platinum certification.
"All of our feedback has been positive; the staff are very excited to be contributing," said Sustainable Workplace Ambassador Johanna Boucher about how the certification has impacted this Financial Services team.
This office works hard to implement projects and improvements on Banner and Minerva financial systems and related applications, as well as provide access, security, and Help Desk support.
The team has incorporated new routines into their workplace habits, including providing a receptacle for batteries to be sent to hazardous waste, recycling old furniture, and creating a space for shared office supplies that everyone can use.
"We are much more conscious of everything that goes into 'sustainability', which is so much more than just recycling. Being sustainable and factoring sustainability into all our decision-making is much more natural than it ever was before," added Boucher. "We tend to think of it among our first priorities, and this impacts all of our work habits."
Faculty of Medicine (Respirology Division) – Bronze
Number of team members: 15
Sustainability Goal: To achieve sustainable medical care in respirology and to seek sustainability in solidarity with our chronic lung disease patients who are severely impacted by the climate crisis.
"Our motto is 'breathing is life,'" explained Sustainable Workplace Ambassador Linda Ofiara. "Certification will keep us mindful of our daily practices and remind us that we all have a role to play."
Members of the Respirology Division have been front-line workers since the start of the COVID-19 pandemic and expressed the need to have a more sustainable and "greener" medical system for patients and the planet.
Through the bronze-level certification, the team has committed to actions such as eliminating the use of disposable water bottles, making mental health first-aid part of their staff orientation, and providing reusable cutlery in their office kitchen.
In the future, this unit hopes to create a puffer recycling box, which would encourage patients to properly dispose of metered dose inhalers.
"Sustainability certification has made us mindful of the impact of our daily actions, whether it's prescribing a puffer for a patient, donning PPE for procedures, or commuting to work," reflected Ofiara. "We all have a role to play in sustaining our medical systems."
The Sustainable Workplace Certification program includes environmentally, economically, and socially aware action items to inspire sustainable changes at work and at home. Learn more on the Office of Sustainability's website.