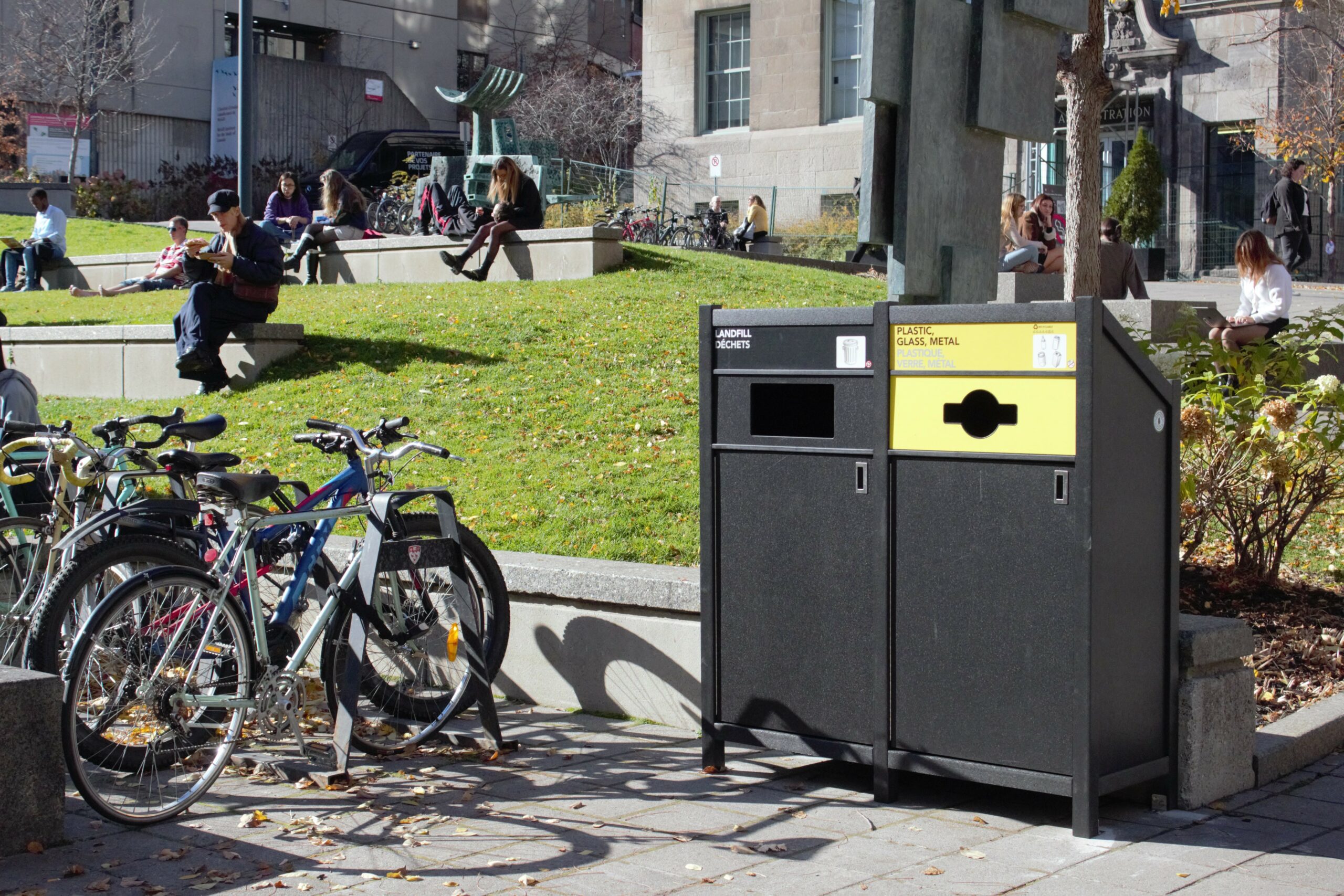 McGill is one of two Quebec universities to receive recognition from the provincial government for its waste management practices. RECYC-QUÉBEC, the branch responsible for sustainable waste management, recently awarded McGill's downtown campus the Performance certification level of its ICI on recycle + program.
"Three years ago, McGill made a commitment to become zero-waste by 2035. Since then, the University community has really come together to make that happen," said Francois Miller, Executive Director of the Office of Sustainability. "This certification is a testament to all of that hard work and, hopefully, a motivator to keep going."
The goal of the ICI on recycle + program is to recognize organizations across the province that are "proactive and committed" to improving their waste management practices. The Performance certification is the second of four levels, awarded to organizations that have already taken steps to better reduce, reuse, recycle, and recover waste materials.
While there are currently 360 organizations in Quebec with ICI on recycle + certification, McGill and Université de Sherbrooke are the only two universities. To attain the 90 per cent diversion rate needed to be considered zero-waste by 2035, McGill has and continues to make changes to campus infrastructure, supply chains, and programs, as well as bolster its waste education and engagement initiatives.
Collaborative efforts across campus
Many of the waste management projects that earned McGill its ICI on recycle + certification relied on partnerships across multiple units including the Office of Sustainability, Facilities Management and Ancillary Services, Procurement Services, and Student Housing and Hospitality Services.
In recent years, the Department of Buildings and Grounds has installed more than 700 standardized sorting stations in academic and administrative buildings across both campuses, many of which feature decals and posters to encourage proper waste sorting habits. Additionally, there are now more than 30 outdoor sorting stations on campus that offer a recycling stream outdoors for the first time ever at McGill.
"It's important to Buildings and Grounds to be at the forefront of some of the initiatives that are making McGill stand out as a sustainability leader," said George Lazaris, Director of Buildings and Grounds at Facilities Management and Ancillary Services. "We are constantly looking at how we can make our practices more sustainable, from our cleaning procedures to the maintenance of our grounds. We're already looking at how we can take our successes in terms of waste management to the next level."
Increased composting 
McGill has also significantly expanded its compost collection efforts with the installation of 65 sorting stations that include a compost stream. This has allowed the downtown campus to divert 28,586 kilograms of organic waste (roughly the weight of five elephants) from the landfill in the first seven months of 2022 alone. To help the McGill community adjust to these new waste sorting options, students volunteered 457 hours as Zero-Waste Ambassadors last year, and the Office of Sustainability engaged with more than 400 students at zero-waste orientation events and through its online Zero-Waste Knowledge Base.
"Before I was actively involved, I didn't fully appreciate the challenges of reducing and recovering waste, nor did I know what meaningful actions I could take as an individual," said Kirk Lau, a member of the Recycling Pioneers student group, which has been working with Buildings and Grounds since 2019 to develop and install smart waste bins on campus.
"Now I understand that it's important for students to get involved, not only to share knowledge and raise awareness to change our waste culture, but also to foster a sense of community and collaboration."