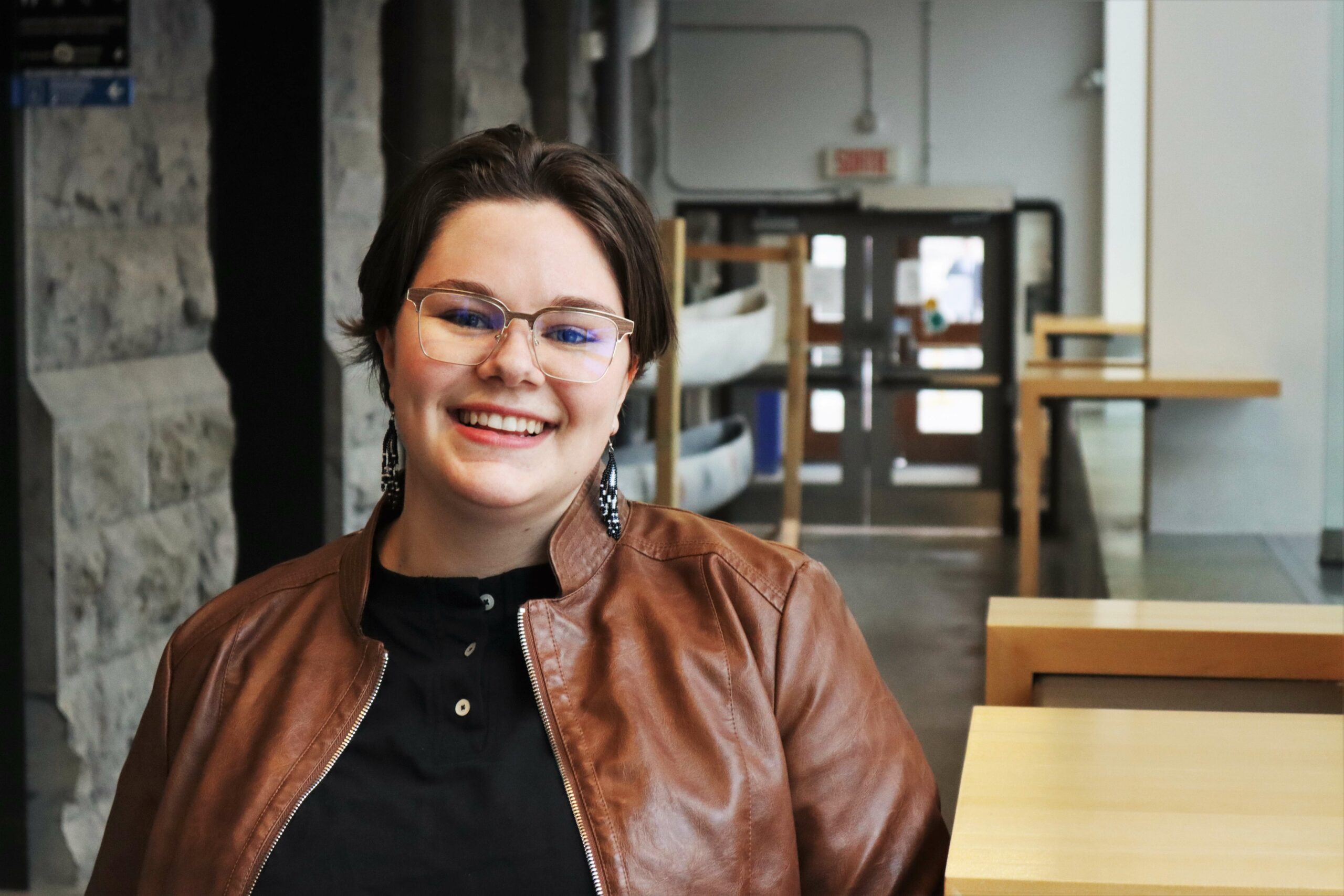 Like many students this deep into the semester, Isabelle Prévost-Aubin is eyeing the finish line with great anticipation. That anticipation is heightened, as the fifth-year mechanical engineering undergrad will be collecting her degree in less than two months.
But Prévost-Aubin will also be leaving something behind when she leaves McGill, something of great significance for the University. A Métis from Sudbury, Ontario, in Robinson-Huron Treaty territory, Prévost-Aubin is one of the McGill students who spearheaded and curated the Projections: Kwe digital exhibition of Indigenous art that is being showcased in the lobby of the McConnell Engineering Building. The goal of the exhibit is to increase visibility, representation, and inclusion of Indigenous students and cultures in the Faculty of Engineering
"Isabelle has not only done incredible work in establishing and developing Projections; Kwe, but also in supporting Indigenous communities at McGill," said Jim Nicell, Dean of the Faculty of Engineering, during the launch event on April 13. "In her time at McGill she has been involved in the McGill chapter of the American Indian Science and Engineering Society, has held multiple executive positions in SSMU's Indigenous Students Alliance, and formed the Indigenous Inclusion Committee (IIC) under the Engineering Undergraduate Society, in addition to advocating for indigenous sovereignty and environmental rights. In future years she wishes to incorporate Indigenous sovereignty and power in the work she does in renewable energies and sustainability. The Faculty is proud and humbled to be home to students like Isabelle whose work continues to challenge and transform the professions."
The Reporter spoke with Prévost-Aubin about the Projections: Kwe project.
Could you tell us about the genesis of the Indigenous Inclusion Committee?
A few years ago, when participating in events from AISES's (the American Indian Science and Engineering Society) chapter at McGill, I noticed that many other universities had programs to either increase the visibility or generally help Indigenous students in STEM in their academic and personal careers.
I started asking my Indigenous peers, in engineering and in other programs as well, how they thought the Faculty of Engineering could improve its relationship with Indigenous students and staff, and how they could support us better.
From these discussions and ideas, I went to the Engineering Undergraduate Society (EUS). EUS recommended that I form a committee under them in order to have access to more resources and contacts. Hence, the Indigenous Inclusion Committee was formed, right as COVID initially hit. We were, of course, affected by this, but the ideas from my peers drove me to continue with a few goals, namely, installing Indigenous artwork, and including the INDG courses as acceptable Complimentary Studies B in the curriculum.
 Tell us about the beginnings of the Projections: Kwe initiative.
Kwe was originally supposed to only be physical paintings, such as the Benjamin Chee Chee artworks that you can now see in the McConnell building. However, two events occurred simultaneously.
First, a friend of mine, a former Creative Director in the EUS, reached out about the projector project, and provided me with the past research that the Creative Directors have been doing for this project. At the same time, the Faculty of Engineering and the Indigenous Studies and Community Engagement Initiative reached out about making this into a projector, to continue this project that was already started. Therefore, as a way to commemorate the Bicentennial of McGill, and to promote even more the visibility of minorities in the Faculty of Engineering, Kwe was started.
Who are the IIC members spearheading this project?
I put together a team of Indigenous students, both in Engineering and in other programs, to have their opinions. It was critical that a team of us could discuss the art and bounce ideas off of one another – the aspect of community work is critical in such projects.
Also, prioritizing Indigenous voices was key. These were Indigenous artwork, and this project, all things considered, is for current and future Indigenous students. Having First Nations, Inuit, and Métis voices was not up for discussion. This is how Dallas Karonhia'no:ron Canady-Binette (Kanesatake'ro:non, Kanien'keha:ka), Jonas Henderson (Kalaaleq), Kayleigh Spencer (James Bay Cree), and Jocelyne Couture (Métis Nation of Ontario) joined the team. I could not have finished this project without their contributions and kind words.
Specifically, Dallas helped in so many ways, in attending meetings, providing opinions and feedback, even in writing the curatorial statement that is next to the projector! I could not have asked for a better team. I am forever grateful for their support and kind words.
How did you select the art? It must have been extremely difficult to narrow it down to the final pieces. 
Absolutely! When we got together, we had a few goals and priorities in mind:
We wanted to have as much diversity in the Nations of the artists/type of art as possible. The goal was to completely demolish the stereotype that all Indigenous art is the same. Different materials, different regions of the world were highlighted, and diversity in the pieces were celebrated.
 The transparency of the history of the pieces, and proper credit to the artist. Unfortunately, we did notice during our review of the artwork that many pieces did not have a listed artist, and for us, it was simply unacceptable to promote this art without the ability to credit the artist. In addition, not having the artist, their nation, or the name of the piece, also suggested that the history of the piece was unknown, or blurry. Given the violent history that Indigenous peoples have with colonial institutions, we wanted to ensure that the pieces shown in this space were pieces that were voluntarily given/obtained respectfully by the University or the previous owner of the artwork.
Ease of digitization. Some pieces were in very difficult areas and were not easily accessible to digitize, in order to obtain them in a proper format for the projector. This also played a role in the selection.
Even with these priorities, we still provided a list of over a hundred pieces to the Visual Arts Collection (VAC), after over four hours of selection and discussion. The final narrowing of the selection was thus from the VAC team – we were simply not able to choose!
Do you have a favourite piece, or favourite pieces – ones that may connect with you more than others? 
I do connect quite a bit with the Benjamin Chee Chee paintings. He is from the same region as me and is quite popular back home. Also, funnily enough, his Afternoon Flight painting reminds me of my Fluid Mechanics 1 course, where we were taught about streamlining and drag reduction – some of the most optimal methods are used by geese in their flight patterns and shape.
The paintings by Leo Yerxa also reach me quite a bit, but for these, I can't explain them in words. Sometimes, it's just a matter of connection.
Finally, Roy Thomas' New Year is also one of my favourites. It is just so bright and beautiful, and every time I look at it, I find a new connection – from the inner animals, to the faces painted in the four colors of the medicine wheel, to the connecting strands of Grandfather Sun. It is simply a stunning piece.
Why is it important to have this type of exhibition of Indigenous art on display in Engineering and, in a larger sense, at McGill?
Oh boy, I could write a full essay about this, and many Indigenous students actually have!
In terms of McGill, I would simply suggest reading on the impacts of Indigenous peoples in colonial institutions.
Specific to engineering, however, I find that it can be easy to forget the reason why we design, fabricate, and innovate, as well as the impacts that engineers have, every day. The reality is that Indigenous communities on Turtle Island are often disproportionately affected by our decisions, specifically with regard to environmental impacts. The pipelines that are constructed against the will and power of Indigenous peoples, the pulp and paper mills that emit by-products in the rivers and the air, the location and content of landfill sites, and their emissions. Engineers have a say in these decisions, and have a "seat at the table".
As the next generation of engineers, we need to be educated and should be educating others, on the impacts of our decisions. This needs to include BIPOC and Asian people. It needs to include disabled people, it needs to include queer and trans folks, it needs to include minorities.
Not only does it affect these folks, but they should also be part of the solution. How are engineers supposed to create the ideal solution if they aren't knowledgeable about the problem itself? We are on Native Land. As future engineers, we should have knowledge about where we're working, and how our projects impact the communities that are caretakers of this land, and have been for centuries.
First Nations, Métis, and Inuit people can also bring unique perspectives and experiences. These should be celebrated, and in the least, Indigenous peoples should feel welcomed in engineering spaces. The expression Kwe is one recognized in many dialects and languages, a way to greet someone warmly, to welcome them. This was how the name was chosen, and the impact I hope the projector exhibition has on Indigenous students and staff at McGill.
What are your plans after graduation?
For a few years, I plan to work in renewable energies in Tio'tia:ke. I enjoyed working in geothermal heating in the past, and think that renewable energies have a large role to play in the fight against climate change. Later on, I do want to return to school to obtain a Master's degree and am thinking of pursuing ecological anthropology. It's a field that encompasses my passion for the caretaking of the land, but could allow for my technical background in engineering to take part in the research at hand.
The Projections: Kwe digital exhibition of Indigenous art is being showcased in the lobby of the McConnell Engineering Building. Learn more.