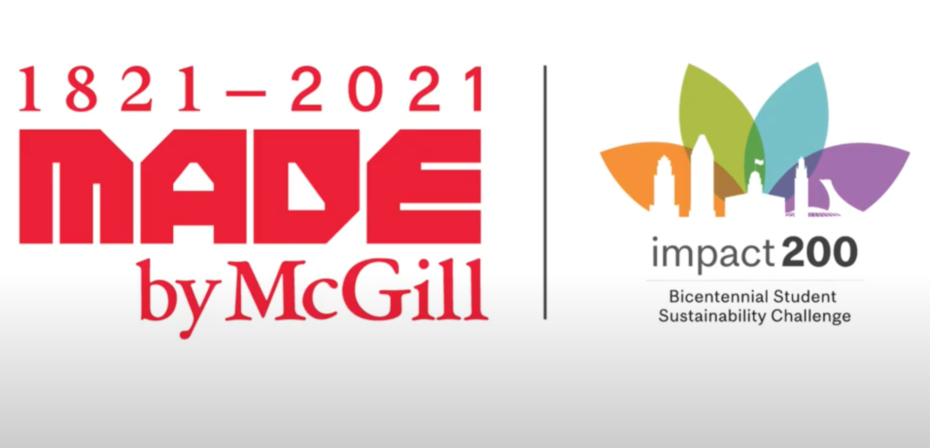 The judges' votes are in. Ten finalist teams have been selected in the impact200 Bicentennial sustainability challenge, which aims to turn students' ideas into innovative projects with real-world impact.
Among the proposals moving on to the next phase of the challenge: a plan to convert agricultural and cardboard waste from McGill's campuses into edible mushrooms; a project to create 200 gardens on underused land in Montreal; and a program to build footbridges connecting rural communities with schools, markets and clinics in South America and Africa. All the projects address one or more of the United Nations' 17 Sustainable Development Goals.
Of the 44 teams that entered the impact200 challenge late last year, 22 were selected in January as semi-finalists. Those teams pitched their ideas during March to a judging panel made up of three emeritus professors and a retired University staff member.
The finalist teams each get up to $5,000 and expert mentors to help develop a proof-of-concept over the summer.
"Any one of the finalists could develop a sustainability project which will have a significant impact for many years to come, either locally in Montreal or abroad," said judging-panel member Lawrence Mysak, Emeritus Professor in the Department of Atmospheric and Oceanic Sciences.
The teams will pitch their final proposals to a jury in the fall. Winners are scheduled to be announced in late November.
Here are the 10 finalists:
200 Urban Garden
Did you know that Montreal currently provides only 35% of the WHO's recommended greenspace per person? 200 Urban Garden aims to do something about that: The team's goal is to establish 200 new gardens in Montreal by turning underutilized pockets of land into lively green spaces with themed gardens to match the spirit of the local community.
Algo
Algal blooms are overgrowths of algae that can reduce oxygen levels in bodies of water, block sunlight from aquatic plants, and release toxins into their environment.Algo aims to remove algal blooms by collecting the excess algae and converting it into biomass. Once recovered, this biomass can be used as a sustainable source of energy such as biofuel or biogas, or it can be used as fertilizer.
CoolHealth/ The Sustainable Cooling Team
This team is developing a mobile solar refrigerator to provide better access to sustainable cooling in mobile clinics globally. The prototype will be implemented in Burkina Faso to serve internally displaced communities, especially women and children, in collaboration with local partners
McGill Engineers in Action
For people around the world, a river can mean the difference between receiving an education, getting medical attention, and selling goods – or not. Every year, this team will design a footbridge for rural communities in Bolivia or Eswatini to help connect them to essential resources such as schools, markets and clinics. Then, every summer, a team of students wlll live and work alongside the community to construct the footbridge.
McGill Food Analytics Centre
There are over 150 food-based organizations in Montreal, and over 10,000 volunteers. But there is a supply and demand mismatch for the volunteers in the system. The McGill Food Analytics Centre has created a scheduling application designed specifically for volunteers at food-based organizations.
McGill Mycelium Project
Imagine an innovative urban farm that transforms waste into a nutritional food source, in a space as small as a closet. The McGill Mycelium Project will convert agricultural waste from Mac campus and cardboard waste from the downtown campus into tasty oyster mushrooms to be served at McGill cafeterias.
Mental Health Task Force
Are you looking for ways to better cope with stress and anxiety in this time of uncertainty? Learn how to improve your emotional intelligence with this team's gamified, scientifically backed EdTech tool. The platform helps you gain actionable insights in self-awareness, empathy, self-regulation, social skills, and motivation using the latest research in behavioural science.
MiniWaste
Food bank demand surged after the beginning of the COVID-19 crisis. But small food donors and food banks don't have efficient logistics to coordinate their efforts. Food Map aims to bridge this gap. The information-sharing platform connects small food banks, food donors and people in need, with real-time geographical information on the availability, perishability, type, and quantity of donated food in the city.
SOlar-A
Have you ever thought about how easy it is to access clean water with the turn of a sink handle? 29 per cent of the world's population still lacks this basic service. In many communities, women and children make long journeys to bring home small amounts of dirty water, contributing to 485,000 diarrheal deaths yearly. The Solar-A team aims to tackle this problem with a backpack capable of purifying contaminated water using solar and biomechanical energy.
unearth
The unearth platform will teach youth how processes within environmental systems are linked. For example, youngsters can explore how coral reef fisheries in the Caribbean can cause phase shifts to algae-dominated states when overexploited. The interactive platform, enriched with current scientific literature and animations, will be available in English, French and Spanish.
Watch a video montage of impact200 semi-finalist proposals.