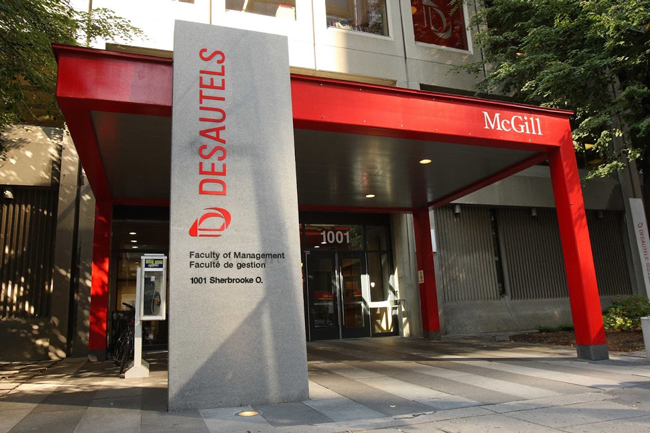 By McGill Reporter Staff
Corporate Knights, which bills itself as "the magazine for clean capitalism," has issued its 2017 Top 40 Better World MBA ranking that lists the business schools that most effectively integrate sustainability into the education of future business leaders. McGill's Desautels Faculty of Management was ranked ninth in the world.
"McGill Desautels MBA ranked ninth out of 134 programs around the world," says corporate Knights founder Toby Heaps. "The McGill Desautels MBA program excelled by offering three core courses dedicated to sustainable development themes with a strong backdrop of related published faculty research and institutes."
Corporate Knights magazine is published as a quarterly insert in the Globe and Mail and Washington Post. It is one of the world's largest circulation (125K+) magazines focused on the intersection of business and society. The Toronto-based quarterly tries "to get good business (industry leaders) to behave more responsibly.
The ranked schools were assessed on three indicators: curriculum, institutes and centres, and faculty research. Data for these three indicators was collected from publicly available sources. Outreach was conducted to each of those schools for verification and confirmation prior to completion of the ranking.
On its web site, Corporate Knights says business schools offer a unique, and under-utilized, laboratory to explore and test solutions to push sustainability forward in ways that benefit both business and society at large. Environmental sustainability means making responsible decisions that will reduce a business' negative impact on the environment.
The challenge is that it isn't just society that often fails to recognize the important role that business schools play; the schools themselves often fail to recognize their role and the increasing range of opportunities that sustainability can offer them, particularly now that the United Nations Sustainable Development Goals (SDGs) are in place, says the web site.
Four McGillians named as future sustainability leaders
In addition to the Top 10 ranking for Desautels, four McGillians were included in Corporate Knights' list of Top 30 Under 30 young leaders in sustainability.
Amelia Mary Brinkerhoff, 24, (BSc'16) is the Vision 2020 Coordinator at the McGill Office of Sustainability. Brinkerhoff helped create the new position of student sustainability coordinator for McGill's Food and Dining Services, in collaboration with McGill's head chef. During her three years in this position she established long-term commitments around waste, procurement and engagement practices and proved to be a key force behind a culture of sustainable food at McGill.
After receiving the University's Catalyst Award in 2016 for her contributions to the McGill sustainability community, Brinkerhoff was hired to craft the University's Climate and Sustainability Action Plan (2017-2020). She has worked with hundreds of staff and students to create the Action Plan, which is set to be released in December.
"I feel thankful and privileged to be included in a list of young people that are tackling the sustainability challenge from so many different angles – if we're going to create a better world, we really need that diversity of tactics," says Brinkerhoff. "The work that I've been able to accomplish through McGill's Sustainability Strategy and beyond has often been about bringing different people together and finding the right mechanisms to create change. I know that my accomplishments at McGill have been possible because of brilliant and motivated McGill students who have worked for years to push for more ambitious climate and sustainability action."
Mikhail Smilovic, 29, (PhD'17 Civil Engineering, Environment) is trying to tackle one of humanity's greatest challenges: how to grow enough food for a growing population, and how to do this without continuing to dry the world's rivers, lakes and aquifers.
Trained as a natural scientist, mathematician and artist, Smilovic recently completed his PhD at McGill investigating initiatives to produce more food with less water. He is now doing post-doctoral work at the University of Victoria. He was awarded a prestigious Canadian NSERC Postdoctoral Fellowship to fund his research. His work has led to the development of a new method to determine irrigation scheduling to maximize the amount of food produced per drop of water, available for different crops and regions.
Gabriel Meunier, 26, (BSc'13) a recent graduate of the McGill School of the Environment, is the project manager for energy and climate change at the Lanaudière Regional Environmental Council.
Meunier chaired the Équiterre de Lanaudière Action Group for several years. Dozens of the group's actions have helped to increase awareness of sustainability issues among the region's population. He is also a director of Bécik Jaune, a community-based self-service bicycle project, and joined the organizing committee for the provincial consultations regarding pipeline issues and the arrival of the oil sands bitumen in Quebec.
Nivatha Balendra, 22, second-year BSc. (major Physiology), decided to tackle the lack of environmental solutions for cleaning up oil spills, Balendra's research involved her discovery of a novel species of bacteria effective in the bioremediation of oil particles using a strain of Pseudomonas bacteria from local soil samples she collected around Montreal. She received the World Economic Forum Prize at the Intel International Science and Technology Fair in China for her work.
Balendra also founded the International Young Scientists Mentorship Program, a student-led non-profit organization focused on motivating and supporting youth in STEM (science, technology, engineering and math).