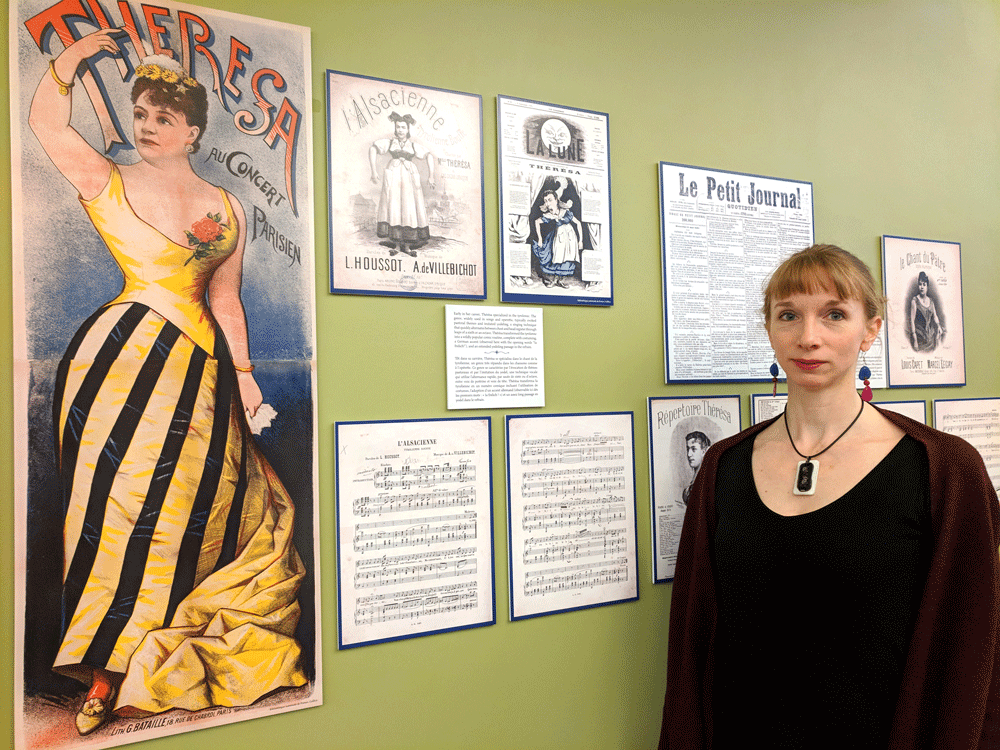 Running until June 30, the Women, Work, and Song in Nineteenth-Century France exhibition explores women's work and the cultural work about women in popular songs of the nineteenth century. Women contributed in a myriad of ways to the music industry in France through their work as composers, performers, publishers and consumers. The songs in the Library's collection provide an exceptional opportunity to study musical responses to women's changing roles within French society, as they joined the workforce, participated in revolutions and armed conflicts, and contributed to the burgeoning women's movement. 
We spoke to Kimberly White, Senior Documentation Technician at the Marvin Duchow Music Library and curator of the exhibition, about this unique collection.
Can you tell us briefly about the exhibit?
The Marvin Duchow Music Library's new exhibition, Women, Work, and Song in Nineteenth-Century France, explores women's work and the cultural work about women in popular music, drawing on a selection of pieces from the Library's 19th-Century French Sheet Music Collection. Women contributed in important ways to the popular music industry in nineteenth-century France. They worked as composers, poets, and performers; they also hosted musical and literary salons, directed theatres, and earned a living as pedagogues and publishers. The exhibition highlights women's activities not only within the popular music industry but also more generally within French society, as women joined the workforce, participated in revolutions and armed conflicts, and supported the burgeoning women's movement.
Why does this topic interest you?
Commercial sheet music provides a fascinating window into experiences of daily life in 19th-century France. Popular songs were written quickly, performed and published almost immediately, and most were forgotten within just a few weeks. But taken together, the songs become a kind of musical journal, their immediacy to contemporary events providing a more intimate understanding of the diverse cultural responses to social issues and political circumstances.
This is particularly true for songs produced during and following the Franco-Prussian War (1870-1871). Martial patriotic songs meant to rouse the soldiers and the populace during the conflict eventually shifted to bitter laments for the loss of lives and territory upon France's defeat, and later turned to forceful songs calling for revenge.
Each piece of music in the collection also presents an opportunity to trace a complex network of agents who contributed to its creation, performance, and circulation. Sheet music typically lists the composer and lyricist, the names of performers who sang the song and the venues in which they appeared, and sometimes a dedication to a patron, a performer, or a friend. Compiling this information provides a more complete picture of musical circles and systems of musical patronage, and it also allows us to assemble repertoire lists for popular performers at influential venues.
Why is this topic important for people to engage with?
Musicological scholarship of the nineteenth century has tended to focus on more prestigious musical genres and institutions, and the works of canonic (male) composers. For this reason, both the musical and social value of popular songs of the nineteenth century have been underestimated. Shifting the focus to smaller genres and popular musical institutions both challenges and complements the narrative that has been advanced by the discipline. The exhibition brings much needed attention to popular songs written by and about women or performed by women, and it provides critical historical context to twentieth-century developments in the popular music industry.
Popular songs were – as they are now – extraordinarily ubiquitous and, for this reason, played an important role in influencing people's perspectives about social issues. The songs written in
response to the women's movement are a good example. As women demanded educational reforms, more professional opportunities, and the right to vote, many songs grappled with the potential changes to the social fabric – and not always in a positive manner. Songs such as Les droits de l'homme lamented the possible reversal of gender roles, with the cover illustration displaying broken marriage contracts, husbands left at home to care for wailing children, and women smoking cigars and riding bicycles.
Exploring the songs from this period provides an important reminder of the role popular art plays in society, in both positive and negative ways, by reinforcing or challenging stereotypes and thereby shaping our worldviews.
What are some of the highlights of the exhibition?
The number of songs about women working in various industries is quite impressive. Although popular songs cannot be treated as documentary evidence on their own, they inform us about particular practices that we can then explore through additional historical documents and secondary literature.
Women worked earlier in the nineteenth century as market vendors, selling their products (fruit, vegetables, fish, etc.) at the famous Parisian market "Les Halles" using distinctive melodic calls. Many women worked at the theatres as singers and actors, but some also worked as ushers and prompters. With the development and expansion of communication technology after mid-century, women took up new professions such as telephone and telegraph operators and postal workers.
Although the collection primarily contains music published and circulated in France, there are a few fascinating connections to Montreal. The collection contains a volume bound in Old Montreal, containing dozens of early to mid-nineteenth century songs (romances, melodies) published in France. The names engraved on the front were none other than Philomène-Charlotte Cherrier, Marie-Josephte Cherrier (Mme Sénecal), and Louise Cherrier, daughters of Côme-Séraphin Cherrier (1798-1885), a distinguished lawyer and important political figure in Montreal in the 19th-century.
Did you have an "aha" moment when putting together this exhibit?
I really enjoyed exploring the connections to the music scene in Montreal. French musical cultural circulated widely to all areas of the globe, via travelling companies of performers to France's contemporary and former colonies, including Montreal.
At the turn of the 20th century, Montreal had its very own Eldorado (the Eldorado in Paris was one of the longest running and most popular café-concert), complete with a troupe made up of French and Québecois singers, and repertoire straight from the French capital. This quintessential Parisian entertainment had an appreciable influence on the Montreal music scene. New songs were written imitating the style of café-concert chansons and taking up local themes. The Deville brothers, a comedy duo who performed regularly at Montreal's Eldorado, performed a song called Dans la rue Saint-Laurent.
Curated by Kimberly White, the Women, Work, and Song in 19th-Century France Exhibition is on display at the Marvin Duchow Music Library until  June 30.