For many students, spring break means going south. For fourth-year Chemical and Environmental Engineering student Quang Anh Nguyen, this year's spring break will mean going as far south as one can possibly go.
From March 17 to 28, Nguyen will join a global team of young leaders on the 2041 ClimateForce Antarctic Expedition – a trip he hopes will help others understand the urgency of the current climate crisis.
Nguyen will fly to the southernmost city in the world, Ushuaia, Argentina, and journey through the Drake Passage to reach Antarctica. Once there, it'll be time for ice trekking, volcanic sightings, and daily journeys to see penguins, glaciers, and sprawling mountains. In addition, he'll listen to experts discuss climate science, renewable energy, and leadership development. He plans to document his journey on his Instagram, Facebook and LinkedIn accounts.
From Vietnam to Antarctica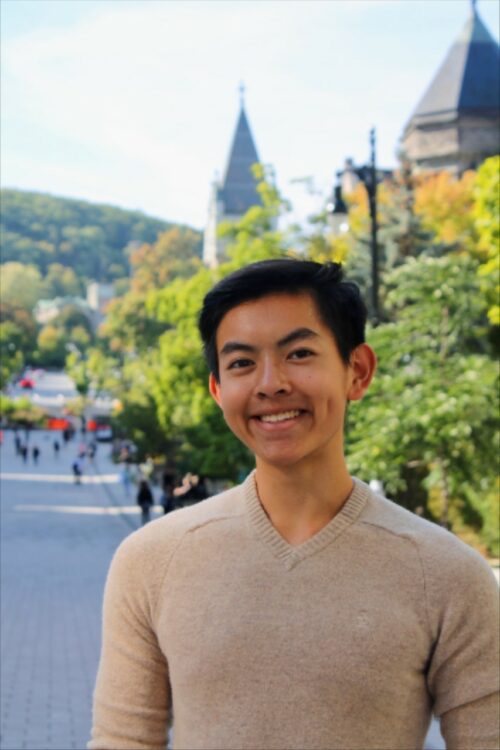 A native of Vietnam, Nguyen says he became interested in the issue of climate change in middle school, after hearing a program on a car radio about how thousands of species were lost every year due to changing climate patterns.
"What was even more shocking was how the driver casually switched the radio channel after that," he said. "It did not reconcile with me how many of us don't even think twice about the huge amounts of animals that were going extinct because we disregard it as one of those 'out there' issues that is for someone else to solve."
By the time he reached high school, he understood that the climate crisis was the single greatest issue of his generation, and he began to educate himself more about environmental issues. From there, his interest moved toward how humans can deploy green innovations, such as clean energy and regenerative agriculture, to help minimize the damage to the Earth's environment.
Nguyen brought his passion for the issue to Canada, and to McGill, in 2018, where he began his Chemical Engineering undergraduate degree, with a minor in Environmental Engineering. He is now the co-president of the Research and Sustainability Network, an SSMU club aimed at bridging the gap between students and sustainability academia and careers. Last year, Nguyen joined with five others in creating the 200 Urban Garden, which aims to set up 200 new gardens in Montreal by turning underused pockets of land into lively greenspaces. The project was one of the ten finalists for the impact200 Sustainability Challenge, launched as part of McGill's Bicentennial celebrations.
'Insanely cool'
The organizers of the Antarctic expedition, the 2041 Foundation, recently approached Nguyen about making the long journey to Antarctica. Nguyen decided to apply for two reasons.
"Firstly, going to Antarctica is a once-in-a-lifetime opportunity to see some of the most pristine ecosystems in the world," he says. "In other words, it's insanely cool!
"Beyond that, I aim to leverage the trip to better understand how I can create greater impact and encourage more people and organizations to adopt sustainable practices. I hope that by sharing a different side to sustainability and showing the grand beauty behind nature, I can inspire people who might not have been ardent climate advocates to start caring more about it."
Corporate sponsors, including Maple Leaf Foods and Ontario Power Generation, are helping Nguyen raise the bulk of the $22,000 he needs to fund the trip. He set up a GoFundMe page to help raise the rest.
Once he returns, Nguyen has already lined up workshops to share his reflections. For the moment, he sees the trip as an exciting, once-in-a-lifetime opportunity.
"Coming from a small tropical city, Antarctica was the farthest thing from my imagination of possibilities," he says. "I didn't even think that 'normal' people could even go that far. So really, it was about believing in myself and that I can make the trip happen."