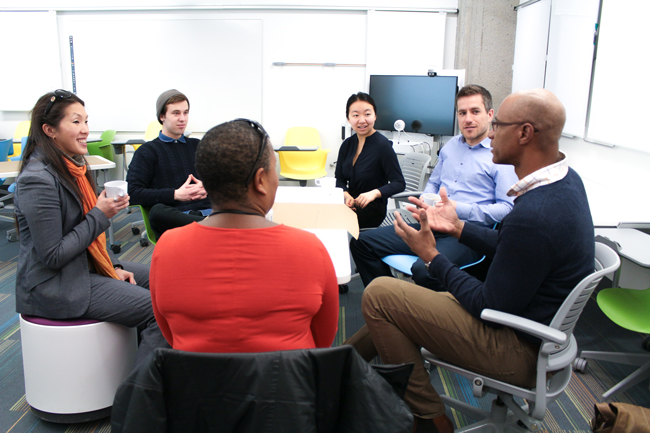 A year of big questions, tough conversations, and lofty ideas has finally materialized in the Vision 2020 Climate & Sustainability Action Plan (2017-2020), released earlier today. Designed to expand and enhance the University's commitment to sustainability, the Action Plan also outlines a number of initiatives to lower McGill's own carbon footprint.
To set the University on the right path, two long-term targets were set to guide the Action Plan: achieve carbon neutrality by 2040 and attain a Platinum sustainability rating by 2030.
"We knew that if we were going to address climate change on campus, we needed to think beyond 2020. That is why we set these long-term targets," says Sustainability Director, Francois Miller. "Addressing a challenge like this – arguably the defining challenge of a generation – requires us to go towards a more longstanding vision of change. This [2017-2020] Plan is only the beginning of a much longer journey."
An institution achieves carbon neutrality when the amount of greenhouse gases released is equivalent to the amount sequestered or offset. McGill's own plan for carbon neutrality includes strategies for campus energy systems, air travel, and commuting policies, among other emissions sources. Achieving carbon neutrality by 2040 means that McGill will eliminate its greenhouse gas emissions – currently 54,060 tonnes – through significant carbon reduction and, to a lesser extent, carbon sequestration and carbon offsets. This amounts to the equivalent of taking 11,576 cars off the road.
The Platinum sustainability rating is the highest possible rating developed by the Association for the Advancement of Sustainability in Higher Education (AASHE). The Action Plan outlines twenty-two short-term actions across five areas (Research, Education, Connectivity, Operations, and Governance & Administration), many of which will move the University closer to achieving this goal by 2030.
"I'm proud that [this Plan] addresses many new areas of sustainability and climate change for the first time," says Amelia Brinkerhoff, Vision 2020 Coordinator. "I think it reflects how complex and multi-dimensional sustainability is, and how we're adapting to what McGill and our community need to see."
Vision 2020 – McGill's Sustainability Strategy – was launched in 2014 following a two-year community engagement process, along with a 2014-2016 Sustainability Action Plan. The Climate & Sustainability Action Plan (2017-2020), which covers the final phase of Vision 2020, is also the result of an extensive consultation process that engaged over 500 McGill community members.
"Not only did the Vision 2020 process engage a broad cross-section of the McGill community in the creation of the Climate & Sustainability Action Plan, it outlines a series of actions that are to be tackled by units throughout the University," says Vice-Principal Administration and Finance, Yves Beauchamp. "This multi-sectoral approach is integral to creating a more resilient and sustainable institution."
The entire Climate & Sustainability Action Plan will be made available in French in early 2018, along with an executive summary in the three main Indigenous languages in Quebec: Innu-aimun, Cree, and Kanien'keha (Mohawk).
Action highlights:
Develop a "carbon responsibility" program to offset air travel emissions
Increase bike parking across campus
Develop a Waste Reduction and Diversion Strategy
Address GHG emissions from McGill's fleet of vehicles
Facilitate and support planning of sustainable events across campus
Recruit an Indigenous scholar or artist-in-residence
Read the Vision 2020 Climate & Sustainability Action Plan (2017-2020) online.