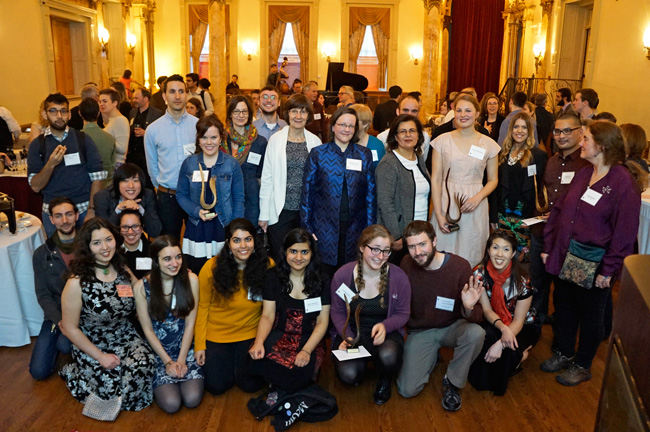 By McGill Reporter Staff
McGill honoured its leaders in sustainability on Thursday, April 14, at the sixth-annual Catalyst Awards. Both groups and individuals were singled out for honours and recognized for their dedicated and often imaginative efforts to make the University a more sustainable community.
Outgoing Vice-Principal (Administration and Finance) Michael Di Grappa said he has seen incredible changes over the last five years.
"In my role overseeing administration and finance I am in charge of some very real-world portfolios – building renovation, information technology, procurement – where the daily conversation focuses more on budgets and timelines than it does on questions about the future of the planet," said Di Grappa. "And yet the people who work on these topics care deeply – about doing their jobs well, about making McGill a better place, and about leaving a better world for their children."
François Miller, the manager of McGill's Office Of Sustainability, said the event honors "people who try to make McGill a better place. … We made special efforts this year to walk the talk of sustainability."
The Catalyst Award for Research went to the Kohlrabi Collective, a group that represents the unification of three student-run projects that produce and distribute local food at McGill: the Macdonald Student-Run Ecological Garden, the McGill Farmers' Market, and Organic Campus.
The Collective was formed through an applied student research project initiated by Matt McCormick in the fall of 2015. As an active member of McGill's student food systems network, McCormick realized that these projects were trying to achieve similar goals, but were not working together. Each group was experiencing challenges, including financial insecurity and lack of community engagement. McCormick met with project members to identify some of these challenges, and encouraged each project to imagine a more connected local food system in which groups shared resources, knowledge, and campus connections to achieve their common goal. As a result, the Kohlrabi collective was born. Now, in the Summer and Fall of 2016, the McGill Farmers' Market, the Macdonald Student-Run Ecological Garden, and Organic Campus will work together to provide the McGill community with better access to fresh food produced by McGill students.
"This is such an honour," McCormick said. "Many people helped with this. When people come together, it really creates more of a change on our campus."
The Catalyst Award for Education went to the BCom Managing for Sustainability program and was presented by Desautels Faculty of Management Professor Morty Yalovsky.
Traditionally, Management education has emphasized economic value at the potential expense of ecological and social well-being. In a move toward a more holistic approach to Management, the Desautels Faculty of Management, the McGill School of Environment, and the Department of Geography collaborated to advance sustainability in Management curricula.
The result is two new "Managing for Sustainability" (MSUS) undergraduate programs for McGill Bachelor of Commerce students pursuing marketing, finance, accounting, operations, organizational behaviour, information systems, or strategy paths. Through diverse course offerings across different faculties, students acquire knowledge and skills that equip them to work across boundaries. The effects of these programs will be transformative for students entering the world as the decision-makers of tomorrow. The program's first graduates convocated in May 2015, entering the workforce with a strong understanding of what sustainability means and how it relates to their role within an organization.
The Catalyst Award for Connectivity went to the ECOLE Project, a physical hub for sustainable living, applied student research, and community-building for the McGill and Montreal communities. Led by 10 live-in student researchers and a diverse collective, it facilitates a culture of sustainability by providing space, resources, and networks to connect student groups, faculty, and staff members involved in socially and materially sustainable actions. ECOLE integrates the many projects related to environmental/social sustainability on campus and provides a home for applied student research related to social justice, environmental sustainability, and anti-oppressive principles.
Two years in, the ECOLE Project house is now a central meeting space which facilitates collaborations and dialogue between sustainability groups and the larger Milton Parc community in Montreal. As a hub for the sustainability community, ECOLE extensively promotes events on campus and sustainability-related community gatherings which happen at the house, and they regularly host skillshare workshops to encourage alternative education methods.
Vice-Principal (Research and International Relations) Rosie Goldstein, presented the Catalyst Award for Operations to the Sustainable Procurement Core Team, a permanent working-group that brings together McGill staff, faculty, and students. Thanks to their work, SP Core Team members developed the University's vision for Sustainable Procurement and a series of key objectives and projects designed to operationalize and institutionalize this vision. The main output of their work, McGill University's Sustainable Procurement Strategic Plan represents McGill's first sub-institutional sustainability strategy. The strategy rests upon the respect of triple bottom line (social, economic, environmental) principles, and the use of lifecycle thinking to make the University's supply chain more sustainable.
"In many cases, transitioning toward more sustainable practices requires that we change our thought processes as well as our actions," Goldstein said. "Some of the most significant changes in our behaviours are ones that will go unnoticed, that ultimately, if successful, get taken for granted as they are incorporated into our institutional culture.
Deputy Provost (Student Life and Learning) Ollivier Dyens served up the Catalyst Award for Governance & Administration to Enrolment Services.
Often the first place students approach when they arrive at McGill, ES understands that first impressions are crucial, whether they happen on a campus tour with the Welcome Centre, by checking out the prospective students' website, or stopping by Service Point for a visit. The Enrolment Services unit consists of 120 employees, including a 10-person leadership team, all of whom take pride in sustainability in their personal and professional lives.
Enrolment Services has expressed and embedded the spirit of sustainability in many initiatives and projects over the past year. These extend beyond environmental sustainability to include organizational development, inclusivity, and the sustainable use of resources to conduct their business. A few examples are: the online eCalendar which reduces use of paper and makes it easier to search for courses; and AskMcGill and the McGill mobile app which reduces use of paper, improves accessibility, improves event findability and makes it easy to connect with classmates.
"We are proud to be part of this," Dyens said. "Sustainability is important for us and we know it its importance for students." He pointed to greater use of the Internet for online recruitment activities and "less flying around the world so we can reduce our carbon footprint."
The coveted Emerald Key Award was presented to an obviously delighted Amelia Brinkerhoff, by McGill's Executive Chef, Oliver de Volpi. A recent graduate of the Agricultural and Environmental Sciences program at the McGill School of Environment, Brinnkerhoff is passionate yet pragmatic about driving institutional change in sustainability at McGill. Her involvement in urban food systems is based on her belief that universities should practice what they're teaching.
De Volpi described her as the "poster child" for sustainability at McGill.
As the Sustainability Coordinator for McGill's Student Housing and Hospitality Services for three years, Brinkerhoff helped drive long-term commitments and collaborations, and has been a key force behind a culture of sustainable food engagement at McGill. She ensured that SHHS went beyond applied research collaborations to institutionalize the results into departmental practices. A co-founder and director of the Market Cooperative, Brinkerhoff has also served as the coordinator of the SSMU Sustainability Case Competition and as a volunteer with the McGill Farmer's Market, the McGill Food Systems Project and Santropol Roulant.