Gender-inclusive washrooms, and debate about so-called "gender ideology" have taken up considerable space in mainstream media of late. While this coverage has captured the public's attention as an emergent issue, the issue is in fact not new.
At McGill, the push for gender-inclusive washrooms dates back nearly two decades.  Jennifer Drouin, then a PhD student, and Gregg Blachford, then Director of McGill's Career Planning Service (CaPS), recall a combination of factors that got them interested in the issue.  "I was getting occasional looks in bathrooms as a gender-non-conforming lesbian …it was uncomfortable," Drouin explained.
Blachford and Drouin, through the Subcommittee on Queer People (SQP), were mandated to make recommendations to the Joint Senate-Board Committee on Equity (JSBCE) on how to make McGill campuses equitable, safe, and inclusive for the LGBTQ+ community. In 2004, following meetings with student groups, notably the TransGender Alliance and Queer McGill, they led a project that resulted in designating nearly 40 existing washrooms gender-inclusive by June 2007.
Reviewing every washroom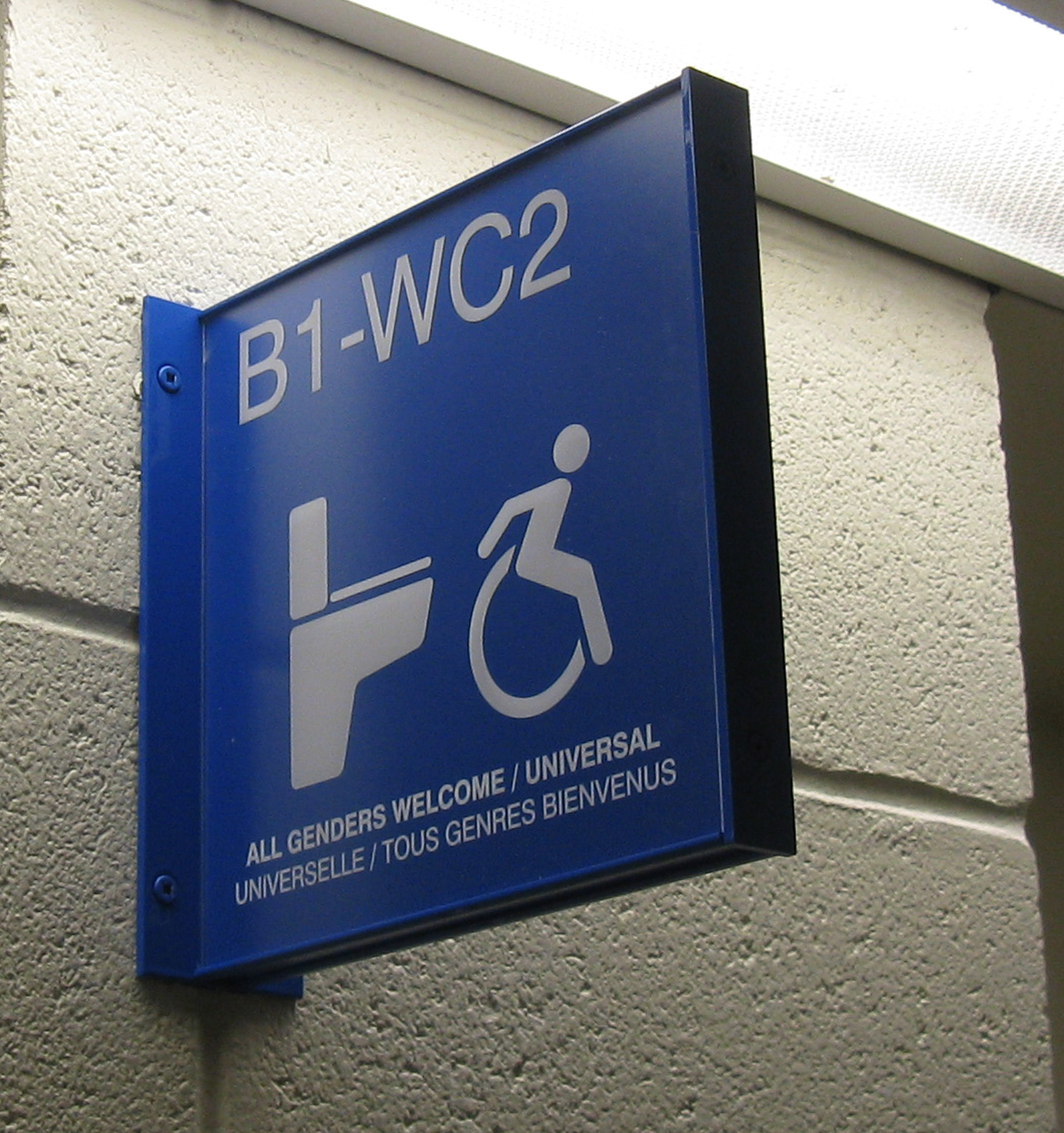 Over the course of this three-year project, Blachford and Drouin visited every building, floor, and washroom on the downtown campus to identify single-stall washrooms that were or could be converted to gender-inclusive. Blachford and another student also surveyed washrooms at Macdonald Campus. "It took years to pull the list together," says Blachford.  "As a white, cisgender, gay male, these issues were not on my mind.  Jennifer educated me because she was living the issue," Blachford recalled. "I'd have to give credit to the students to really get us moving on it."
Blachford and Drouin recognized the need for a policy to support sustained movement forward. In 2007, the JSBCE (now the Equity Diversity & Inclusion Committee (EDIC)) passed a resolution put forward by the SQP calling for the designation of at least one single-stall gender-inclusive washroom per building and preferably one per floor in all existing and newly built buildings.
In 2012-13, a second push for gender-inclusive washrooms began. Andrea Clegg, then of McGill's Social Equity and Diversity Education (SEDE) Office, led the initiative, creating a digital database of all potential single-stall washrooms on both campuses. Meetings with student groups, members of the SQP, the Subcommittee on Persons with Disabilities, staff from SEDE and Facilities Management and Ancillary Services (FMAS), ensured steady progress.
Design help from students
Over the summer of 2013, two architecture students appointed by FMAS and SEDE conducted an accessibility audit of all single-stall washrooms. This work was a major contributor to redesignating 200 single-stall washrooms as gender inclusive, a list of which is available on an Equity Office webpage.
This year saw a third push for further action. On a resolution from the SQP, the EDIC approved an expanded gender-inclusive washrooms resolution calling for all single-stall washrooms to be designated gender-inclusive, at least one multi-stall, gender-inclusive washroom per building and at least one single or multi-stall gender-inclusive washroom per floor (on floors where there is a washroom).
This resolution builds on a current project for a multi-stall gender-inclusive washroom facility in Burnside Hall, set to open in January 2024, which follows a pilot at Macdonald Campus that established two such facilities. The Rutherford Building also has gender-inclusive washrooms on every floor.  Architectural plans for major new infrastructure projects, namely the New Vic and Fiat Lux, also provide for single and multi-stall washrooms in keeping with the EDIC resolution.
Emmanuelle Lapointe, Director of Design Services at FMAS, notes the advantages of the current reconceptualization of washrooms.
"Gender-inclusive washrooms lead to a better use of sanitary services during peak times, such as between scheduled classes," she explained.  "The redesign of washrooms – both single-stall and multi-stall – also prioritizes physical accessibility with more availability for persons with reduced mobility."
"There are other advantages as well," Lapointe added, "such as better use of square footage when multi-stall toilets are not separated by gender."
Dispelling misconceptions
Security concerns are sometimes flagged to contest gender-inclusive washrooms, with arguments circulating around women's safety. But empirical evidence does not support these preoccupations (Bovens & Marcoci, 2023). Multi-stall facilities' design account for safety through stalls that go down to the floor and integrate two separate, doorless entry/exit points.
"It's important to dispel misconceptions about safety that unjustly frame trans and nonbinary people in problematic terms," noted Ignacio Cofone, SQP Chair and Associate Professor of Law.
Yet misunderstanding and hostility persist, something Marie Dry, a doctoral student in Law, recently experienced firsthand. While carrying out a washroom audit as part of a work assignment, she was questioned by a staff member and told with a look of disdain: "I can assure you there is none of that [e.g., gender inclusive washrooms] in this building."
Many trans, nonbinary, and gender non-conforming persons adopt a strategy of avoiding gendered washrooms.  Those with intersecting marginal identities are also at heightened risk for harassment and discrimination, with trans women of colour particularly at risk for mistreatment (Patel, 2017).  Lack of access to washrooms is unquestionably a public health issue.
Safe and accessible washrooms for members of the McGill community and visitors to our facilities is a right that should be available to all.  Improved access to gender-inclusive washrooms also helps set the tone for an inclusive campus.  McGill is on course to further this aim.
References:
Bovens, L., & Marcoci, A. (2023). The gender-neutral bathroom: a new frame and some nudges. Behavioural Public Policy, 7(1), 1-24.
Patel, N. (2017). Violent cistems: Trans experiences of bathroom space. Agenda Empowering Women for Gender Equity, 31(1), 51–63.