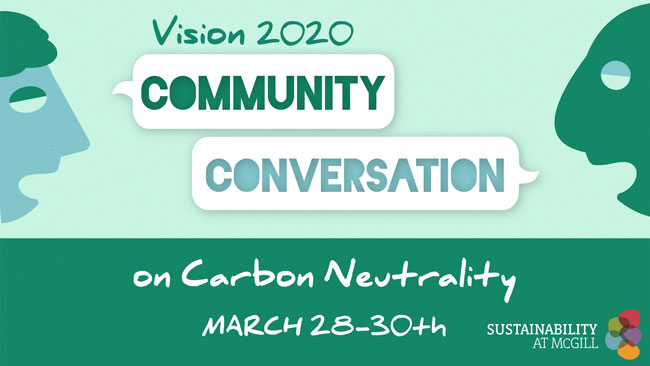 After six months, 11 consultation events, and hundreds of ideas gathered online and in person, the McGill Office of Sustainability (MOOS) is inviting the McGill community to share their thoughts on possible targets for the Vision 2020 Sustainability and Climate Action Plan.
All are welcome to attend three Community Conversation events March 28, at Macdonald Campus; and March 29 and 30 downtown. Participants will get a chance to learn about the Vision 2020 process and discuss proposed sustainability targets, including one to make McGill a carbon-neutral university.
Carbon neutrality is a process that is intended to achieve net zero greenhouse gas emissions through two means: (1) eliminating emissions wherever feasible and (2) implementing a combination of carbon sequestration and offsetting initiatives for the equivalent amount released.
The Community Conversations are a key step in the consultation process that started six months ago. So far, MOOS has held two rounds of Vision 2020 Action Team meetings to address McGill's sustainability performance across five categories: Research, Education, Connectivity, Operations, and Governance and Administration. These meetings, held in September and November 2016, have brought together over 200 students, staff and faculty members to discuss and evaluate proposed actions for the 2017-2020 Sustainability and Climate Action Plan. A third and final round of Action Team meetings will take place March 14 to 17.
At the helm of the Vision 2020 process is Coordinator Amelia Brinkerhoff a recent Macdonald campus grad (B.Sc. '16, Environmental Science) who has been involved in sustainable initiatives at McGill for several years.
"The five Action Teams really represent a cross-section of McGill's community – students from every level and discipline, professors from a variety of faculties, and dedicated staff members," Brinkerhoff says. "Thoughtful questions have been asked, and creative ideas and solutions put forward. I think that the next big thing is to talk to members of the community who might not be involved in sustainability, but who will be impacted by the Action Plan."
Before the Action Plan is officially adopted, members of McGill's new Advisory Council on Sustainability, which is comprised 17 internal and external members from various backgrounds, will review and validate the plan.
In addition, MOOS will convene a Task Force of Academic Experts that will provide input on the overall efficacy of the plan, especially regarding its climate-related target.
"We need to pursue targets that respect the ecological limits of our planet and are still within our capacity as an institution," says Director of Sustainability Francois Miller. "Ambitious realism has been a guiding principle of the Vision 2020 process this year."
If you want to help chart the course of sustainability actions at McGill, get involved with Vision 2020 by:
Attending a Community Conversation on Carbon Neutrality:March 28, 1:30 – 3 p.m. at Macdonald Campus; Macdonald-Stewart Building, Faculty Lounge;

March 29, noon – 1:30 p.m. downtown; University Centre or SSMU Building

(also known as the Shatner Building), Room 202;

March 30, 4 – 5:30 p.m.  downtown; University Centre or SSMU Building

(also known as the Shatner Building), Room 2022.