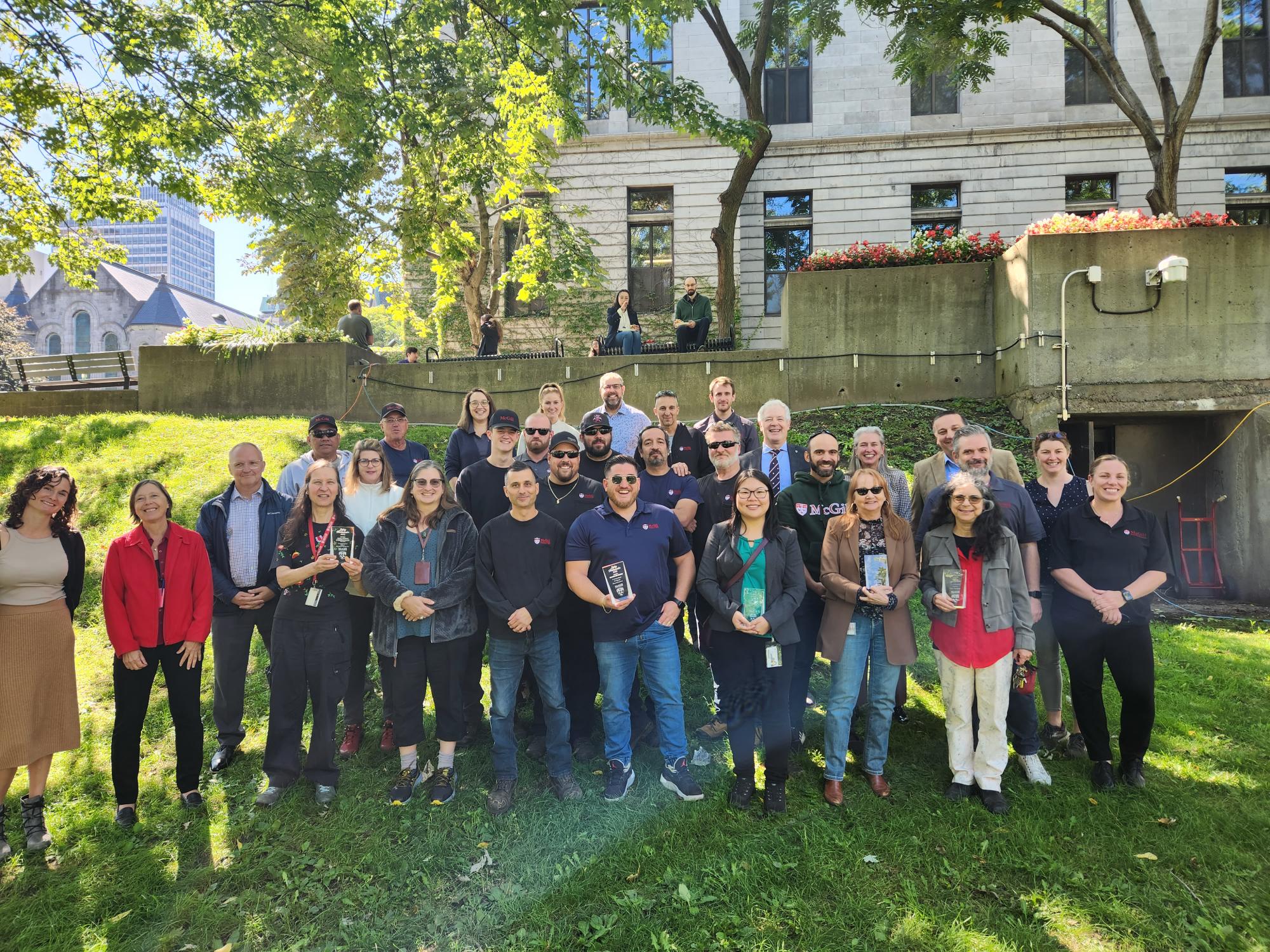 Several McGill staff members and teams were honoured at the annual Security Services Community Barbecue, on September 15.
"Each year, the Campus Public Safety (CPS) teams recognize colleagues they consider to be safety champions by naming them Safety Ambassadors," said Pierre Barbarie, Senior Director, Campus Public Safety. "These are individuals or groups of individuals, whose jobs are not necessarily related to safety, but who go out of their way to make their building, their department or the campuses a safer place for everyone."
Four individual recipients of the 2023 Safety Ambassador Award were introduced by Denis Mondou, Associate Vice-Principal, Facilities Management and Ancillary Services:
Carole Verdone-Smith
Building and Infrastructure Administrator/Building Director, Department of Biology
(Nominated by Security Services Downtown)
"We would like to thank Carole for her exceptional efforts during the flooding incidents that occurred in February 2023 at the Stewart Biology Building," Mondou said, on behalf of the downtown Security Services team. "Carole demonstrated an unwavering commitment to keeping everyone informed and up-to-date with essential information, which significantly contributed to the safety of all building users. In fact, we want to commend Carole for her invaluable contribution and helpfulness, not only during those challenging few weeks but as building director of Stewart Biology generally. Carole is a remarkable example of how one person's actions can positively impact the wellbeing of others."
Jérôme Conraud
Director, Utilities and Energy Management, Facilities Management and Ancillary Services (Nominated by Environmental Health and Safety)
"EHS wishes to thank Jerome for being a safety mentor for his co-workers and for contributing to make safety top of mind, including recently through his involvement in the review of the asbestos management program and his leadership in the water potability testing program," Mondou noted, on behalf of Environmental Health and Safety. "It is easy to see that Jerome is committed to making McGill a safe workplace. Jerome, thank you for encouraging safe work habits and setting a positive example. EHS truly values your efforts and leadership in the implementation of a safety culture at McGill."
Paula Kastelman
Senior Technician, Earth System Science
(Nominated by Hazardous Waste Management)
Paula is a pillar of the Geography labs, where she has worked tirelessly for more than 25 years to ensure the safety of a generation of students and colleagues," Mondou said. "Paula has collaborated with Hazardous Waste Management on a number of large decommissioning and renovation projects in Burnside Hall and Otto Maass. Her commitment to safety is not limited to the large scale – Paula regularly consults with HWM when she has questions about a new chemical or a protocol, or simply to confirm the best possible course of action. Paula goes above and beyond to keep people safe, managing to make the Geography labs not just a healthy place but a happy place."
Winncie Leung
Architect, Design Services, Facilities Management and Ancillary Services
(Nominated by the Fire Prevention Office)
As an architect involved in the design of renovation projects, Winncie is a great partner for the Fire Prevention Office wherever safety is a key concern, in particular in laboratories," Mondou noted, on behalf of the Fire Prevention Office. "Winncie is committed to improving the general safety in our buildings and manages to find "out-of-the-box" solutions to challenging or costly issues related to bringing our buildings up to code. She does not limit her review to the individual project in design at the time, she looks at the big picture in the building, making sure plans are realistic and efforts effective, while providing results that meet the researchers' needs."
Jon Kassis
Electrician, Macdonald Campus Operations, Facilities Management and Ancillary Services
(Nominated by Security Services Macdonald).
Pierre Barbarie, Senior Director, CPS, and Anja Geitmann, Dean, Faculty of Agricultural and Environmental Sciences, presented Kassis with his award at a separate event at Macdonald Campus on September 14.
The Security Services team at Mac chose to bestow the Safety Ambassador Award this year to Jon Cassis for "displaying exemplary initiative in keeping the Macdonald campus safe". "Jon is the first to raise a flag when he sees issues on campus, be it inside buildings or on the campus grounds," Barbarie said, on behalf of the Mac Security team. "He is a stickler for procedures, which is crucial when it comes to safety on campus. Jon has assisted Security Services on numerous occasions during emergencies by rapidly reporting and resolving issues, ranging from detectors being damaged that could cause unnecessary building evacuations, to unsafe hot work practices."
FMHS and FMAS teams also among honorees
This year, the Safety Ambassador recipients also included two teams, who were introduced by Interim Vice-Principal (Administration and Finance) Diana Dutton:
Faculty of Medicine and Health Sciences Building and Infrastructure Management Office
(Nominated by the Office of Emergency Management)
"The BIMO team has long been a committed partner of the Office of Emergency Management in promoting safety and preparedness," VP Dutton said. As written in the OEM's nomination submission, "in the past few years, this has included strong engagement in preparing for the return to in-person activities during the COVID-19 pandemic response, providing feedback and suggestions for improving awareness and preparedness activities in their buildings, and reaching out for the newest training when available." "The BIMO team is a proactive team committed to providing a safe environment for their community and I want to express to them how grateful we are for their dedication," VP Dutton added.
Grounds Department, Buildings and Grounds, Facilities Management and Ancillary Services
(Nominated by Parking and Transportation Services)
Parking and Transportation Services made the Grounds team their safety champion this year to thank them and express their appreciation for "their continued support on a day-to-day basis".  "This hardworking team plays an essential role in ensuring our campus remains safe, especially during unforeseen events," VP Dutton said. "During last spring's ice storm, they worked extended hours to make sure parking areas were safe, removing tree branches that had fallen, or closing off the parking areas that were not safe. The Grounds team are always ready to respond, whether it's to planned or impromptu situations and requests; they deserve our gratitude," she added.
VP Dutton also took the opportunity to thank the Campus Public Safety teams.
"From time to time, there are moments that bring widespread attention to the outstanding work carried out by our CPS teams, who are committed to ensuring the safety of our campuses and continuity in McGill's activities," she said. "However, much of their hard work happens behind the scenes, often seemingly invisible. Today, I stand before you to affirm that your efforts are seen, recognized, and deeply appreciated by the entire McGill community. A hearty "Thank You" to each and every one of you."