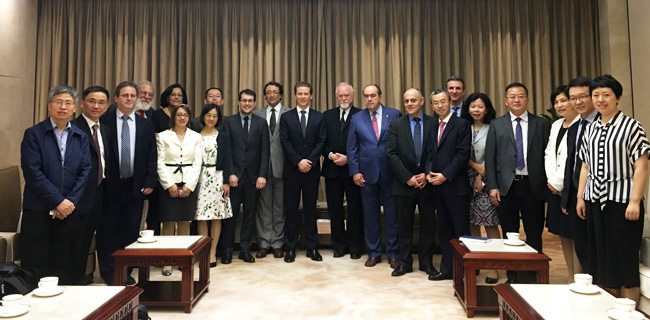 On April 20, Canadian, Chinese and Cuban neuroscience institutes strengthened an existing partnership with the signing of a memorandum of understanding in Chengdu, China.
Partners in the agreement include The Montreal Neurological Institute and Hospital (The Neuro) of McGill University, The Cuban Neuroscience Center, The University of Electronic Sciences and Technology of China, The West China Hospital, and The Tianfu New Area of Chengdu (TFNA).
Under the MOU, the partners agree to exchange faculty, graduate and undergraduate students, conduct joint research activities and publications, and exchange academic and scientific materials. They also agree to establish integrated neuroinformatics platforms to make sharing of neurological data easier, powered by the CBRAIN/LORIS software developed at McGill.
To achieve the goals outlined in the MOU, the partner organizations will form a steering committee tasked with writing a plan to integrate the neuroinformatics platforms and to create an International Project for Precision Medicine in Aging.
"This agreement will allow each partner institution to bring its strengths for the benefit of the whole," says Dr. Guy Rouleau, Director of The Neuro. "When researchers collaborate the results of their work have a far greater impact. I'm proud that The Neuro is part of this exciting agreement."
"McGill's recent signing of an agreement related to the Quebec-China-Cuba neuroscience research project demonstrates how Quebec educational institutions can thrive while having a great impact in China and around the world," says Jean-François Lépine, Representative of the Quebec Government in China. "This initiative received significant financial support from the Fonds de recherche du Québec. "
This agreement is a continuation of previous collaborations between the partners, including The Trinational Axis in Normal and Pathological Cognitive Aging, a collaboration to uncover the basic mechanisms of dementia, to identify biomarkers for the early detection of Alzheimer's disease, to accelerate the translation of research findings into clinical use, and to assess the connections between dementia and differing lifestyles.