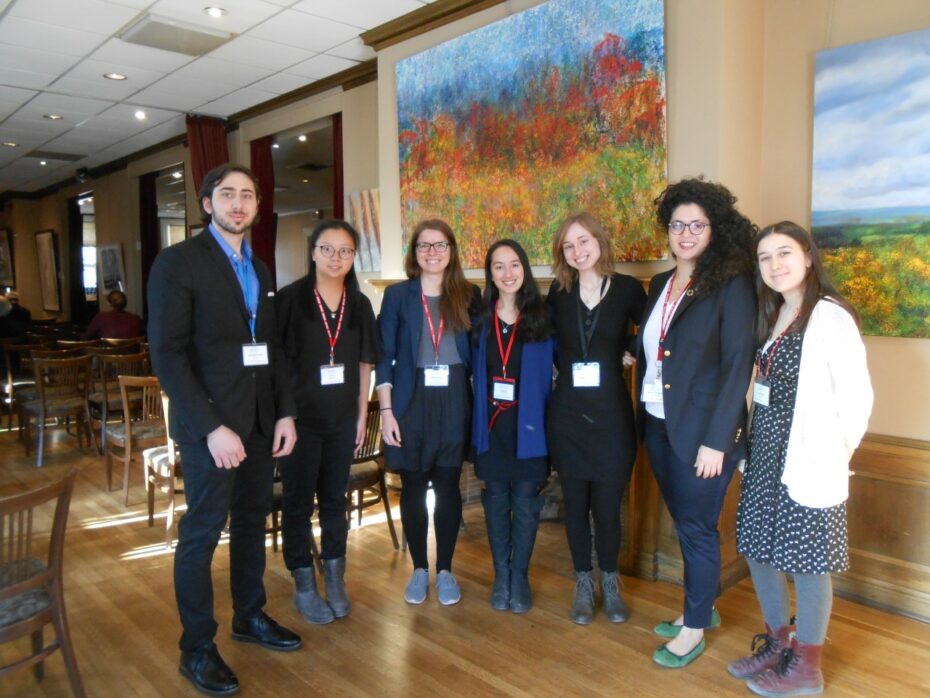 Under normal circumstances, nearly 100 McGill community members would gather to celebrate the 10th annual Catalyst Awards for Sustainability at the McCord Museum. While the in-person festivities may be delayed, there is still just as much to celebrate. The accomplishments and significant progress made towards building a more sustainable McGill by this year's Catalyst Awards recipients is nothing short of extraordinary.
"Today McGill is proud to share with you this year's Catalyst Awards recipients," said Executive Director of Sustainability, Francois Miller. "Each of these teams or individuals has contributed immensely to creating a culture of sustainability at McGill. Everyone recognized has truly gone above and beyond."
"This year's recipients are innovators, team members, leaders, and sustainability champions," Miller continued. "We look forward to being able to celebrate these successes in-person in the future, but until then, I am honoured to present the 2020 Catalyst Award winners."
Category Award: Research & Education
The first category award is the Research & Education Award which recognizes an initiative that encompasses original research from the McGill community, and/or focuses on student, staff, faculty, and institutional learning. The 2020 Research and Education Award has been awarded to the Sustainability Research Symposium.
The Sustainability Research Symposium (SRS) is an annual student-led, interdisciplinary event for McGill students interested in sustainability research. The one-day event features speakers, student research presentations, workshops, and networking opportunities with the goal of connecting students from different disciplines. Now in its tenth year, the SRS operates on the belief that exploring the many axes (social, economic, environmental) of sustainability with peers from different academic backgrounds is imperative to sustainability research.
Category Award: Connectivity, Governance, & Administration
The next category award is the Connectivity, Governance & Administration Award which recognizes initiatives that emphasize the need for strong connections, within both McGill and its broader communities, and/or address how the University is managed in terms of people, finance, decision-making, and process implementation. It Takes All of Us is the winner of the 2020 Connectivity, Governance & Administration Award.
It Takes All of Us (ITAOU): Creating a Campus Free from Sexual Violence, is a new mandatory online learning program for all McGill community members. ITAOU is building a campus free of sexual violence and creating a culture based on respect and consent. The development of ITAOU involved students, staff, and faculty, and has helped create safer, more inclusive spaces.
Category Award: Operations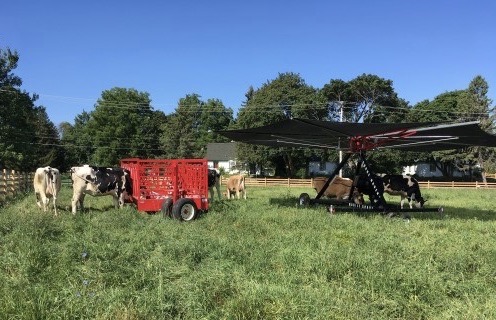 The final category award – the Operations Award – is presented to the Ecological Improvement of Dairy Cow Pastures at Macdonald Campus Farm Project. The Operations Award recognizes initiatives that work to improve the sustainability of the physical activities that support the ongoing functioning of the University.
This Dairy Cow Pasture Project has created a sustainable pasture system at Macdonald Campus Farm which features a rotational grazing system for cattle, the addition of trees and shrubs, the installation of water lines for access to fresh water, and the purchase of a mobile shade umbrella to protect cattle from the sun. The re-design of the pastures has led to improved animal well-being and reduced machinery usage. Led by Maxime Leduc and Paul Meldrum along with a team of staff and student employees, the improvements allow the pasturing of dairy cattle to work in harmony with the environment and creates new habitats for birds and insects.
Individual Awards: Faculty & Staff Contribution
The Catalyst Award for Faculty & Staff Contribution to Sustainability recognizes an individual who has inspired real, sustainable changes on the University's campuses. This year's recipient is Jonathan Rousham.
Rousham, Maintenance Manager at Student Housing & Hospitality Services, has combined his strong belief in sustainability with his responsibility of overseeing the maintenance of 37 residence buildings on campus.
"Sustainability is, for me, something that is a part of how we live our lives. I've tried very hard in this office to really make sustainability not just an add-on, but a part of how we do business," said Rousham while discussing his approach to sustainability.
Rousham prioritizes sustainability in his work, as demonstrated in his sustainable, waste-minimized renovation of the apartments in Solin Hall. Rousham has also hired a sustainability assistant to provide him with a direct link to students living in residence and co-organized a power reduction competition to encourage students to practice sustainability in residence.
"These are really exciting times," continued Rousham, "and I am very, very proud to be part of the greening of McGill."
Individual Awards: The Emerald Key
The next individual award is the Emerald Key. The Emerald Key has been presented every year since the Catalyst Awards' inception in 2011. This award recognizes a student who has made significant and lasting contributions in furthering McGill's culture of sustainability.
The 2020 Emerald Key has been awarded to Charles Choi.
Choi was the 2019-2020 President of SSMU DriveSafe, a student-led volunteer service that offers students free drives home on selected nights.
"I am honoured to be the recipient of the Emerald Key Award," said Choi in short video, which can be viewed on the Catalyst Awards website. "When I came into this presidency [of Drivesafe] I came in with the mindset that I wanted to improve our service's carbon footprint. As a service that uses vehicles for our operations, we explored ways to reduce our carbon footprint, and, with the help of the Office of Sustainability, we were able to plant 22 trees and offset 9000 kilometers of vehicle travel. In total, we offset 10.3 tonnes of carbon emissions. We have also committed to using fully electric vehicles by 2030."
Choi also expanded DriveSafe's services to the Mohawk Territory of Kahnawà:ke, the Montreal South Shore, and Macdonald campus; all areas with limited public transportation options, especially at night. He continues his address by thanking all of the DriveSafe team members and volunteers that made these initiatives possible and looks forward to continuing working towards a sustainable future at McGill.
Individual Awards: Distinguished Contribution
The final individual award – the Distinguished Contribution Award – is presented to Michael Bleho. This award recognizes an administrative or academic staff member who has demonstrated a commitment towards advancing sustainability in the larger McGill community.
"I've had the pleasure and privilege of working with Mike Bleho for the past eight or nine years," said Paul Meldrum, Macdonald Campus Farm Director regarding Bleho's Distinguished Contribution award. "Mike Bleho is always looking for ways he can improve how he produces vegetables and fruit at Macdonald Campus Farm, and at the Horticulture Centre in particular, in a way that will be more environmentally friendly and ecologically responsible."
"The Macdonald Farms are a very important part of the agricultural education our students are getting here at McGill," said Bleho when speaking to his sustainability contributions at McGill. "As soon as we put McGill Feeding McGill together, it brought the Macdonald Campus Farm to the downtown campus. We're growing our own food – only 35 kilometers away from where it is consumed."
As Coordinator of the Horticulture Research Centre at the Macdonald Campus Farm, Bleho has demonstrated his commitment to sustainability through his daily interactions with students and his work making the agricultural process more eco-friendly throughout his 30 years at the Centre. Bleho was a driving force in establishing McGill Feeding McGill – an initiative which supplies McGill dining halls with Macdonald Campus produce. In addition to McGill Feeding McGill, Bleho – with funding from the Sustainability Projects Fund – has, with a team of students, planted a new orchard at Macdonald Farm that will provide apples for the Mac Market and downtown campus for the next 25 years.
"I am honoured to have been chosen for this award," said Bleho. "Mac Farms all the way!"
Thank you to the recipients of the 2020 Catalyst Awards for building a sustainable future for McGill. Congratulations to all!
All of the awards, along with short video clips for each, can be found on the McGill Office of Sustainability website. As we look forward to the 2021 awards, we are also reaching out to the McGill community to understand how they would like the awards to adapt to this new virtual setting. Please take a moment to fill out the survey here.